Betrayal: Amaechi Is Sick, Confused And Haunted By The Gods ... GDI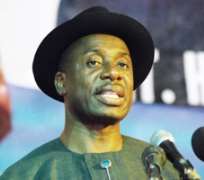 The Grassroot Development Initiative (GDI) has described the recent accusation by the State Governor Rotimi Chibuike Amaechi that their Grand Patron and Supervising Minister of Education, Chief Nyesom Wike betrayed him after swearing with his children, as the product of a man who is sick, confused and haunted by the gods for his evil deeds as a married man.
Receiving some of his loyal Ikwerre traditional rulers under the auspices of the Supreme Council of Ikwerre Traditional Rulers in Government House on Friday, Amaechi said that in order to convince him to forward his name as ministerial nominee to President Jonathan, Wike, at Amaechi's instance, swore with his own children that he would never betray him, but was to betray him after getting his ministerial appointment from President Jonathan.
The GDI in a statement signed by her National Secretary Hon Nwanosike Samuel denied Amaechi's claim, saying the Governor is a serial liar who has lost concentration because the gods are tormenting him for doing what a married Ikwerreman should not do, noting that Amaechi will not have peace until he seeks forgiveness and appeasement of the gods of Ikwerreland. "He knows what he has been doing and unless he seeks the face of God and asks for forgiveness, he will continue to wobble and lack sanity", the statement added.
The GDI advises Amaechi to remain consistent and mean what he says and wondered why he is still talking about Wike everywhere he goes to despite saying that Wike is too small as a junior Minister to be talked about by Amaechi.
Faulting Amaechi's claim that Wike swore on oath with his children before he submitted his name as Minister, the GDI wondered why Amaechi will allow another person to swear to an oath if he was not planning something sinister against President Goodluck Jonathan.
"Amaechi was contemplating a problem with President Jonathan from the beginning and he should be ashamed of himself because as a Knight of the Catholic Church, he is giving people oath to swear in the name of their children even against the injunctions of the Bible which forbids oath taking of any kind", the statement added.
According to the GDI, Wike could not have sworn on any oath to be made a Minister because Amaechi submitted a list of ten ministerial nominees including that of Wike and wondered if they also swore to an oath before their names were submitted. Amaechi should therefore tell Nigerians the kind of oath they swore to or did they also swear by their children?
Besides, the GDI also challenges Amaechi to tell Nigerians the oath that Wike took when he was in exile in Ghana and Wike stayed in Nigeria to successfully fight for and hand Amaechi the office of Governor of Rivers State.
"Amaechi is a habitual ingrate who bites every finger that feeds him. If Wike didn't betray him in 2007 when there was a slim chance of success, why would Wike betray Amaechi as a Minister. The only offence Wike has committed against Amaechi is that Wike refused to join him to fight President Goodluck Jonathan and his wife", the GDI said.
Wike could not have sworn to any oath and worse still using his children because he loves his children and together with his wife, they cherish and respect good family and marriage life. We hope that Amaechi can say the same thing, the statement added.
The GDI said Amaechi has no regards for Ikwerre Chiefs and Elders, noting that the Ikwerre Chiefs he is romancing today are still the same chiefs he publicly insulted and accused of betraying him in the past.
"Amaechi is at war with himself. He is quarelling even his prophet that he talked about in Ogoni when Senator Magnus Abe had a thanksgiving service. Everybody betrays Amaechi. Ogonis betray him; Kalabaris betray him; Ijaws betray him and Ogbas betray him. He is the only one who does not betray people" the statement added.
Signed:



Hon Nwanosike Samuel
National Secretary
Monday, May 19, 2014