NIS repatriates 45 immigrants in Abia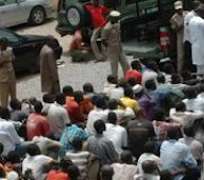 The Nigerian Immigration Service (NIS) in Abia says 45 illegal immigrants were arrested in different parts of the state and have been repatriated to their countries.
Anthonia Okpara, NIS controller in Abia said on Saturday 17 May in Umuahia at a news conference that the immigrants were from Niger Republic, Mali and Burkina Faso.
She explained that 70 immigrants were arrested during a recent raid of towns and cities by the service, noting that 45 persons of them had no valid documents.
She said the immigrants were arrested in Umuahia, Aba, Ohafia and the cattle market in Umunneochi Local Government Area of the state.
She said the raid would be a continuous exercise, describing it as part of the security measures by the service to keep the state safe.
Okpara thanked the state government and military personnel in the state for their assistance in ensuring that the service got rid of illegal immigrants in the state.
She warned residents of the state against indiscriminate hiring of immigrants for domestic and security jobs without establishing their residency status.
She noted that the ECOWAS Protocol, which allowed free movement of citizens of member states within the sub-region for a period of 90 days, was being flouted by many immigrants.
"An immigrant must come with travel documents through a recognised border and will be given a valid visitor's card for 90 days which will enable him to visit the state.
"They are not allowed to take any form of employment and where they should, they must be given a resident card to enable them to work and reside in Abia as legal immigrants," she said.
She said that although there were no border towns in Abia, the service initiated proactive measures in collaboration with the state government and other security agencies to check illegal immigrants.
She explained that the officers from the service were deployed to strategic areas of the state, including motor parks to search luxury buses coming into the state.
"The raid is not a fire brigade approach, we are alive to our responsibilities and we are proactive in making sure that we rid the state of illegal immigrants," she said.
NAN reports that the deportees left the NIS premises around 7:35 a.m. in two buses on Saturday.
The deportees, aged between 15 and 50, said that they engaged in menial jobs, mainly shoe mending and nail cutting.
Ibrahim Garba, 15, a Nigerien and his 17-year old friend, Useni Dauda, who lived on proceeds from nail cutting, said that they came to Nigeria because they could not go to school in Niger Republic.