‎"Chibok girls: Nigeria urges neighbouring communities stand up and be counted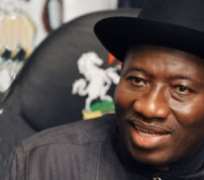 President Goodluck Jonathan has called on the international communities, especially those that have borders with Nigeria to rise up against insurgency and be counted.
President Jonathan made this call in Paris, France, at a summit convened by President Francois Hollande on Saturday to discuss fresh strategies for dealing with the security threat posed by Boko Haram and other terrorist groups in West and Central Africa.
In his twitter handle, @abati1990:, the Special Adviser to the President on Media and Publicity, Dr. Reuben Abati, quoted President Jonathan as saying, "Nigeria will rise up to this challenge and prevail. I call upon each one of you to stand up and be counted with us. ‎ "An attack on one country is an attack on all of us and our common humanity. ‎ "We will not succumb to terrorists and their dangerous tactics. Terrorists will not be allowed to define who we are", he said.
‎The meeting which has Heads of State and Government of Benin Republic, Cameroon, Niger, Chad and the representatives of Britain, the United States of America and the European Union focused special attention to the coordination and intensification of efforts to curtail the destabilizing activities of Boko Haram in Nigeria and neighbouring countries in the wake of the recent abduction of college girls from Chibok, Borno State. President Jonathan, was accompanied by the Minister of Defence, Lt-Gen. Aliyu Gusau (rtd.), the National Security Adviser, Col. Sambo Dasuki (rtd.) as well as other principal aides and advisers.