Group Berates Amaechi, Rivers APC For Politicising ASUP Strike For Cheap Political Gain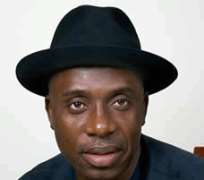 The Director of Communications of the Media Development Initiative, MDI, Mr Martins Onyilokwu has berated the Rivers State Governor, Chibuike Amaechi and the Rivers State All Progressive Congress, APC, for playing politics with the strike action by the Academic Staff Union of Polytechnics, ASUP, when they should be part of the solution.
Their attempt to politicise the recent meeting between the House of Representatives Committee on Education, the Federal Ministry of Education and ASUP is unfortunate and condemnable.
The group declared that it suspects that the Rivers State Government may be among the political forces that have fuelled the trade dispute despite the efforts of the Federal Ministry of Education and the Federal Government to resolve the crisis.
In a statement in Abuja on Thursday, the MDI Communications Director regretted that the governor and his political party attacked the person of the Supervising Minister of Education, Barr. Nyesom Wike who has worked round the clock to resolve a trade dispute that he and the Jonathan administration inherited, since the agreement was signed in 2009.
The statement noted: "The Supervising Minister of Education, Barr. Nyesom Wike has proved to be a pragmatic and patriotic negotiator who resolved the ASUU strike which he inherited as a Minister and is in the process of resolving the ASUP strike. From information at our disposal, progress have been made and the strike will soon be called off because the Minister and the Federal Government have addressed the key demands of the union".
The group wondered why the Rivers State Governor and his political party would resort to cheap blackmail at a critical point in the negotiation process, simply because they were defeated in the political struggle of Rivers State by the Minister.
"The issues on ground affect the entire nation and we implore Governor Chibuike Amaechi and his political party to desist from unprofitable vendetta at the national level. We know that the Governor and his associates tasted defeat in their political fight with the Supervising Minister of Education, but that is not enough reason for them to attempt to derail the process to resolve the ASUP strike.
"We are privy to those who originated the press release for Rivers State APC and the name of Amaechi's media officer featured prominently. If Amaechi and his team feel strongly about the Supervising Minister of Education they should fight him on the political terrain and not seek cheap ungodly political gain", the group said.
They appealed to Nigerians to disregard Governor Amaechi and Rivers APC as they are suffering from 'éxcessive political loss syndrome', which negatively affects consideration for issues of national importance.
Martins Onyilokwu,
Director of Communications,
Media Development Initiative,
15 Algiers Street, Zone 5, Wuse,
Abuja.
May 15,2014.