Vigilante group formed in northern Nigeria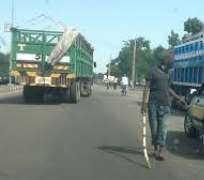 Some residents of a north-eastern Nigerian village say they killed and arrested scores of suspected Boko Haram militants whom they believed planned to launch an attack.
Residents of Kalabalge, in Borno state, said they had formed a vigilante group to foil attacks by Boko Haram amid accusations the Nigerian military is not doing enough to stem attacks.
Borno is where more than 300 girls were abducted last month. At least 276 of them are still captive.
Kalabalge trader Ajid Musa said "it is impossible" for militants to stage attacks there, with residents organising a vigilante group for protection. The killings happened on Tuesday.
A security official confirmed the incident, saying the villagers ambushed two trucks in which several gunmen travelled. – Sapa-AP