Confab Committee seeks power rotation in constitution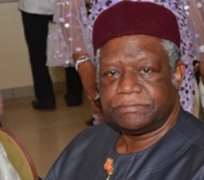 The National Conference Committee on Political Restructuring and Forms of Government on Tuesday in Abuja recommended the inclusion of the principle of political power rotation into the country's electoral laws.
The committee also recommended that the office of the President should be rotated among the geo-political zones, while state governorship should be rotated among the three senatorial zones in a state.
The rotation policy was also recommended for local government councils.
The co-chairman of the Committee, Gen. Ike Nwachukwu (retd.), told journalists that the decision followed the need to make governance all-inclusive and eliminate agitations arising from ethnic or sectional marginalisation.
He said, 'Today, we took a decision on rotation as a policy in moving our country forward. It was a consensus reached by the committee that the policy should be enshrined in the Electoral Act and political parties' constitutions.
'It was recommended that the policy must embrace matters of special groups like women, youths and people living with disabilities.
'It was decided that the rotation must include the office of the President, and then the governors must rotate between the three senatorial districts while the same policy would also be effected at the local government level.
'We felt that if this was affected, no ethnic group or kindred would keep the office in perpetuity while others would feel marginalised. With this, it was believed that everyone would have a sense of belonging and feel as part of the system.'
He said the recommendation might appeared as nothing new from what was being currently employed by political parties, adding that enshrining it in the electoral law would eliminate all doubts and possible manipulations by unscrupulous politicians.
Nwachukwu said, 'People might feel that there is nothing new with this proposal, but I want to say that the difference is that we want this to be included in our electoral law so that the political parties would know that it is mandatory for them to rotate powers within areas that make up the state or the zone.
'What we did was for the generation behind us as most of us are not likely to run for any office again and I want to believe that the coming generation would be more Nigerian than some of us had been and not see themselves as tribal or ethnic champions.'
He also assured Nigerians that patriotism and the necessity of moving the forward would prevail over alleged division in some committees over some contentious issues.