Jonathan: Nigeria can achieve industrial success like China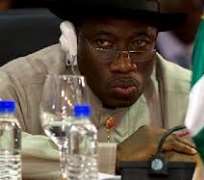 President Goodluck Jonathan said Monday that Nigeria has the potential to become a highly industrialised country like China.
According to him, the marvelous industrial feat achieve in China is replicable in Nigeria.
The president said that if China could effectively, through its industrial and manufacutring sector, become the largest economy in the world, Nigeria could also achieve the same feat in Africa.
He spoke during the inauguration of the Advisory Committee for the Nigerian Industrial Revolution Plan at the Presidential Villa, Abuja. The 25-member committee has the Minister of Industry, Trade, and Investment, Segun Aganga, as the chairman and business mogul, Alhaji Aliko Dangote, as the Alternate Chair.
The President said it was impressive what China had achieved in terms of industrialisation in recent times.
According to him, from a purely agrarian economy in 1978 with high unemployment, little wealth, and little technology, China has earned itself a pride of place in the comity of nations.
He said, 'Today we have a half trillion dollar economy by far the largest in Africa and we have the ninth largest workforce in the world. I believe in this country, I believe in our entrepreneurial spirit. If China can do it I believe we can also do it.
'To accomplish this however, we must do things differently, we must begin to add value to our resources through research development. We must industrialise and the Nigerian Industrialisation Revolution Plan is our agenda to achieve this.'
Jonathan argued that no country had become prosperous only by extracting and exporting its raw materials.
He said nations could only generate wealth for their people primarily by adding value to resources.
This, he explained, informed his decision to inaugurate the Nigerian Industrial Revolution Plan early in the year.