Oscar Pistorius murder trial enters final week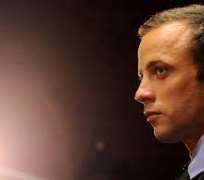 The trial of South African Olympic athlete Oscar Pistorius is entering its final week with the defence set to conclude its case by Friday.
Mr Pistorius denies that he intentionally shot dead his girlfriend, saying he mistook her for an intruder.
The prosecution is continuing its cross examination of a key ballistics expert.
Tom Wolmarans is being asked detailed questions about the order and trajectory of bullets that killed Reeva Steenkamp on Valentine's Day last year.
Defence lawyer Barry Roux has only a limited number of witnesses left to call and is expected to complete his case by the end of this week.
Judge Thokozile Masipa will retire to consider her verdict once prosecutor Gerrie Nel has completed his arguments.
There are no juries at trials in South Africa, so the double amputee's fate will ultimately be decided by her, assisted by two assessors.
Cowering
Mr Wolmarans said on Friday that Ms Steenkamp's wounds showed she may have been standing when first shot.
Correspondents say that the painstaking debate over such detail reflects the defence's efforts to show that Ms Steenkamp was not arguing with Mr Pistorius at the time of the pre-dawn shooting, as the prosecution contends.
The prosecution alleges he shot her dead after a row and that she was cowering from him in the toilet.
He says he accidentally shot her through the toilet door in a state of panic, mistaking the 29-year-old model and law graduate for an intruder.
The state alleges one missed and ricocheted off a wall and injured her back and that the final bullet hit her hand and head as she was sitting in a defensive position.
But Mr Wolmarans said on Friday that splinter evidence showed the model was leaning forward towards the door when the first bullet hit her hip.
The next bullet hit her arm, the third bullet her hand and the last bullet hit her head as she was falling backwards, he said.
If found guilty, Mr Pistorius - a national sporting hero dubbed the 'blade runner' because of the prosthetic limbs he wears to race - could face life imprisonment.
If he is acquitted of murder, the court must consider an alternative charge of culpable homicide, for which he could receive about 15 years in prison.