Angelina Jolie on kidnapped Nigerian girls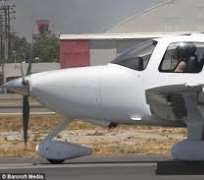 Actress Angelina Jolie arrives for a special Maleficent Costume Display at Kensington Palace in London …
By Katharina Urban-Oberberg
LONDON (Reuters) – Hollywood actress Angelina Jolie, in London to promote her new film "Maleficent," used the red carpet event on Thursday to renew her plea for the safe return of more than 200 Nigerian school girls kidnapped by Islamist rebels.
The 38-year-old actress, who serves as a United Nations special envoy for refugees, said it was "heart-warming" to hear reporters' questions and people's concern for the abducted girls at a movie event.
"The important thing though is to understand that this happens because these men think they can get away with this and they can do this," Jolie told reporters.
"We have to start arresting people for this, we have to start bringing them to justice and we have to start making it an absolute crime that puts fear in these men so that they think twice about this kind of action."
People around the world have been showing their support by taking part in protests and joining online campaigns calling for the rescue of the girls taken from a secondary school by extremist group Boko Haram on April 14. [ID:nL6N0NU3H2]
U.S. first lady Michelle Obama and Pakistani schoolgirl and human rights activist Malala Yousafzai are among those backing an online campaign and have posted photos of themselves holding a sign reading "#BringBackOurGirls."
Jolie also said she was increasingly concerned about for people in Ukraine, where pro-Moscow separatists have ignored a public call by Russian President Vladimir Putin to postpone a referendum on self-rule in eastern Ukraine, declaring they would go ahead on Sunday with a vote that could lead to war. [ID:nL6N0NU4IG]
"I can't imagine anybody from that region isn't just terrified that the worst is yet to come," she said.
Jolie, dressed in a long black gown and joined by her fiance Brad Pitt, led the stars of Walt Disney Co's "Maleficent" at the premiere at London's Kensington Palace. Disney's modern reimagining of the Sleeping Beauty fairytale is due out in theaters around the world at the end of the month.
"The idea here is… to use the scalpel rather than a hammer to focus primarily on high tech and other investment where Russia needs us far more than we need Russia," Nuland said.
"The approach would also involve taking a sectoral slice across a bunch of different sectors at the same time such that the pain is shared among sectors of the economy and to help keep Europeans together because different ones are vulnerable in different sectors."
She reminded lawmakers that European nations had closer economic ties with Russia than the United States "so they are far more vulnerable."
"Whereas Europe trades nine percent with Russia, Russia's trade is 50 percent based in Europe," Nuland told the committee.
AFP