An Appeal To My President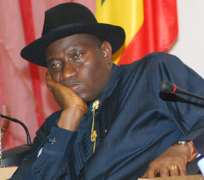 Can somebody close enough to President Jonathan help me and tell him to stop acting like OVER FED BABY GIRL.
He is the commander in Chief of the nation, every security Buck stopped on his table.
Today the Governor of Borno state ,Shettima has shown that he knows more about the terror in his state than any other person.
It was in his house that the former of BOKO HARAM was found ,then today he promised that CHIBOK is security Guaranteed and later that same night ,we started hearing STORIES that does,nt make sense about 230 girls that was kidnapped and they vanished like dust in the wind.
The Governor,the wife of the Governor,the Principal of the school ,the Police commissioner in Borno are all saying different thing about the scandal.They are playing dumb with the nation and the lives of the Girls [imagined or real]
What the president should do is to REMOVE all of them with the powers vested on him as the Chief Security officer of the NATION,if anybody feels uncomfortable with his action ,Mr President will simply ask them to kiss his behind ,because when ENEKE NTI OBA that swerving bird learns how to fly without perching on tree, the Dane Gun hunter will learn how to shoot at it without aiming .
I believe that we should be throwing punches before the Police steps in to make arrest and also we should not forget that Ojionu masqurade, if you do not dance it like a drunk ,you cannot match the beating of the drums and gong.
Boko Haram is not conventional ,they are not democratic and dealing with them ,we must use un-democratic method and what matters is to CUT them down to size and that includes stepping on the toes of the sponsors both the ones in disguise and in the open.
Mr President, better stand up and make a big difference ,,nothing will happen if you do what you are suppose to do, they can only JAW JAW and if they Even Jaw Jaw ,you teach them some mannerism and that is the POWERS OF THE PRESIDENT.
Disclaimer:

"The views/contents expressed in this article are the sole responsibility of

Mazi Oderaigbo

and do not necessarily reflect those of The Nigerian Voice. The Nigerian Voice will not be responsible or liable for any inaccurate or incorrect statements contained in this article."
Articles by Mazi Oderaigbo