Chibok: Tenure of American security forces not yet decided, says US Ambassador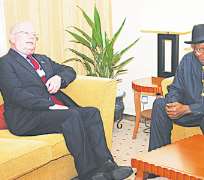 The US Ambassador to Nigeria, James Entwhistle, has said that it was not yet decided how long the American special security forces being drafted to help secure the release of the abducted Chibok schoolgirls would stay in Nigeria.
Thursday's meeting, which held in River Jordan Street, Maitama, Abuja, started at about 8.35p.m, and was a follow-up to the earlier visit to the U.S. by some northern governors.
At yesterday's meeting were the governors of Niger, Kogi, Adamawa, and Nasarawa states, acting governor of Taraba State, deputy governors of Kano and Benue states, as well as the Secretary to the Government of Zamfara State.
After the first round of discussions, Entwhistle, who was part of the opening round of talks, said the U.S. remained committed to helping Nigeria build its capacity to fight terrorism and insurgency, even though the 'question of safety and security in Nigeria is in the hands of the Government of Nigeria.'