Pulpit Insecurity Is A Product Of Ignorance—Bishop Omodiagbe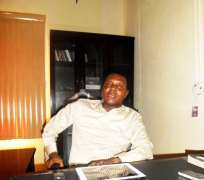 Bishop Dr Matthew Omodiagbe is the founder and Presiding Bishop of the Liberation Word Evangelical Ministries International. He pastors one of the fastest-growing Pentecostal churches in Ajegunle and Nigeria which population is over 3000 members. He had both OND and HND in Secretary Administration from one of the notable northern polytechnics in Nigeria.
He worked briefly with the Federal Government Press and trained as a proofreader under the then Director of Trainings. He attended several Bible colleges which included Bible Life College, David Oyedepo and others. He had his masters and PhD from one of the notable Christian universities in Nigeria. He is a minister of God that has quest for education which recently made him to register undergraduate course at English Language.
He has flair for spoken English Language and writing which also prepared him for the ministerial works and was able to author over 11 books. He recently wrote an inspired book on "Three Men that Caught God" deliberating on three key issues on the Bible as" Worship, Prayer and Righteousness". He is the co-founder of Glomat Blosom schools with his visionary wife, Pastor Gloria Omodiagbe, the Delta-born Educationist.
He is the founders of Liberation word Magazine, Living Word Brainers Academy that offers Diploma courses in Theology and others. He also attended Umunna Bible College where he also lectured briefly before he got his calling to start a ministry. He sees Bishop Leonard Umunna, Bishop David Oyedepo, Archbishop Joseph Ojo and Bishop Humphrey Erumeka as fathers in the lord and role models to emulate in ministry. He has trained several young ministers in Christ.
Today, Liberation Word Evangelical Ministries has over 5 branches in Lagos with their own landed properties except Amukoko branch and a Liberation camp ground for members and others to pray. He is a focused minister of God with intellectual integrity. He believes that God can call you but can't educate you. He voluntarily resigned from the Federal Government press in 1996 to pursue his God's calling in his life after serving Bishop Leonard Umunna for 10years without any form of allegation and received Bishop Umunna's prayers to start a ministry which God asked him to do. He later joined Bishop Humphrey Erumeka of Word Base Assembly International where he wedded his beloved wife, Gloria Omodiagbe who was formerly a member of Assemblies of God church. He is a minister of God who does not want to blow his own trumpet and he wants his works to speak volume. He is fondly called by his admirers as Papa".
He has ministered in several churches across the globe and has liberation branches in South Africa, London and others. He has received several awards too, including the Preachers Magazine Award at his recent consecration as a Bishop and marking his 50th birthday bash. His ministerial messages are viewed on you tube, twitter, CDs, Audio CDs, Tracts, Facebook, Hosanna hour and others. His trying period never allowed him to lose focus in the gospel of Christ; the fear of Bishop Matthew Omodiagbe is the beginning of Arumor Street seeing a new light of God. He is one of the most valuable preachers of our time with creativity on the pulpit.
He is a man of God that eats, drinks, breaks and chews the word of God with his gifted prophetic utterances and testimonies to his members and non-members across the globe. He is one of the successful ghetto pastors of our time with epitome of faith, love and godliness. He has supported young marriages and others. In this interview with Godday Odidi, at his palatial office, he spoke extensively why he introduced Highlife Ministers conference and other related issues affecting today's churches.
Excerpts:

What was the first ministry you attended before you started your own ministry in Ajegunle? I was with Bishop Leonard Umunna for 10years. I served him with my heart even when other ministers of God rebelled against him. I was still there. I don't know how to jump from one church to another. He confirmed my calling and prayed for me. I was trained under his Bible school and lectured for a while. I became born-again in Bible Life church and remained there, after my graduation from Kaduna Polytechnic; Bishop Umunna still absorbed me as a minister.
The Lord spoke to me on December 26th, 1993, Isaiah 5:13, I shall go out with joy. So I was waiting for the call to come to pass in my life. Even when many of my colleagues left with problems but I said I would not leave Bishop Umunna. I love Bishop Umunna with my heart. In 1994, March, Bishop Umunna sent one of the pastors to me that God has called me and he gathered other ministers with him to pray for my divine confirmation and told me the tips to start a ministry.
Bishop Umunna asked me not to a start ministry immediately that I should look for another church to join for more ministerial experiences. I later joined Bishop Humphery Erumeka of the Word Base Assembly, Okota, and Lagos where I got married to my wife as a former member of the Assemblies of God church. I worked with the Federal Ministry of Information, Federal Government Press where I was the senior secretary administration to the Director of Training.
In 1996, God spoke to me to resign but it was difficult, the ministry was very young then. I had to obey the voice of God to pursue the call. Ever since then, things had changed. I did my masters in theology. I just have flair at English Language. Now I have started doing a BA at English Language to balance my educational background in life. The Secretary Administration has helped me to polish my English Language in the public and my books.
I was a trained Proofreader in the Government Press. Little did I know that God was training me for English Language? We finished building this ministry between 1994 and 1996 and started a branch in London in 2007 through my beloved wife. We have five branches in Lagos and others were we owned our landed properties except Amukoko branch under rentage. We are presently having a branch in Yenogoa, Bayelsa state. We are having a camp ground for our members and non-members at Oke- Afo for prayers, Badagry Expressway, Lagos. We shall be having our International Headquarters at Satellite town and our national headquarters will still be in Ajegunle.
Why young ministers rebel against their General Overseers, Have you experienced such in your ministry? Ministers rebelling against their General Overseers are common phenomenon which cannot be altered except God intervenes. The word "rebel "is a disobedient against organized authority in the church. Some pastors cannot define the voice of God that called them rather to rebel against their masters. I vowed not to rebel against my master. Even though I experienced it in my former ministry. Some of my pastors then rebelled against me but I have forgiven them. Many people have ambitions but they don't have patience. There are some that left my ministry and I prayed for them and they are doing well till date. I also have sons in the lord that are doing extraordinary things in their ministries.
Why most ministers of God in Ajegunle don't like to invite their immediate community pastors to preach in their pulpits than using outsiders or foreigners? For me I invite most of the Ajegunle pastors to my church for exchange of pulpits. Many have invited me too. Insecurity is a product of ignorance. Why should I be afraid of my calling? It is a myopic or naïve thinking person that fears to invite people to his altar. If a guest speaker is invited to your church and his mindset to take away your members, the fact remains that we don't have the same calling.
Every minister of God has his own grace, so I don't see any reason a minister should be afraid of a guest speaker invited to his church. I had a program for my five sons recently, Dr Acho Nwoke, Rev. Kingsley Albert, Pastor Harunna, Pastor Israel Jonah and Pastor Uche, where they blessed our ministry with the undiluted word of God and also ministered in their churches too. None of their members have come to my church. Any minister of God that is afraid to invite guest speakers to exchange pulpits is uneducated and untutored with the word of God.
How many books have you written so far?
I have written over 10 books and I just published a book now" Three men that caught God", I keyed into three areas, like Righteousness, Prayer and Worship.
How did you invite Pastor Taribo West to Ajegunle, the former Super football player some years ago to your ministry?
To be candid with you, Pastor Taribo West was my close friend. I never went to abroad through Taribo West. What I know about abroad ministry is time. Every minister wants to go abroad and they do that at their detriment of their ministries. God used my wife to plant a branch in London. So travelling abroad is time. My first country I travelled to be South Africa and today I have many pastors cross the world doing marvelous works in the lord.
My messages that opened doors for me not my books. Sometimes I don't go with my books to abroad. In abroad, they value print works than Africa. There is a saying that" if you want to hide a secret from a black man, then put it in a book". We don't have the reading culture here because of our dwindling economy. Even the educated ones don't read. Books are sold in abroad with good prices than Nigeria. Abroad ministry remains valuable because they value print works. The reading culture is at the lowest ebb in Nigeria. You have to struggle to make ends meet. Generally, black man hardly reads. People are still reading books but still few.
Why regular weddings of young people in your Ministry?

My great interest to see young people getting married in my ministry. Marriage reduces scandals in a ministry like ours. Marriages bring self-esteem to ministry. My joy to see young people getting married. This year we shall be having multiple weddings in the church. I encourage people to marry with my little support.
Do you see your wife as a God-sent to you?

Yes of course! My wife is a great woman of substance sent from God to me. The Bible says "he that finds a wife obtained favor from God. She has been so supportive to my ministry. She is a hardworking woman with vision. She so cooperating in God's work. She stood by me in all my trying period of the ministry. God has been faithful to my family. I loved my wife. She is an educationist to the core.
What is your advice for young ministers of God coming up?

They should be patience and learn to serve their masters well.