DFID/SPARC Team Exchange Views With SSG Oseloka Obaze And Senior ANSG Officials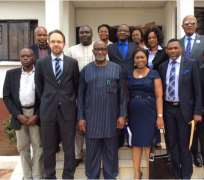 As part of its ongoing collaboration with the Anambra State Government, the DFID/SPARC country team led by Dr. Christian Rogg visited Anambra State to exchange views with the Willie Obiano Administration on their development cooperation programmes.
The visit which was meant to underline the continuity of SPARC programmes commenced during the Peter Obi administration focused on prevailing interventions, outputs, achievements, and challenges. The two teams also discussed the way forward including a possible SPARC-driven retreat for the new ANSG political leadership.
SPARC has over the years supported Anambra State in its development planning, streamlining and harnessing of treasury bank accounts, improvement of IGR, support for human resources management development and fiscal forecasting.
Dr Rogg recalled that former Gov. Peter Obi and Gov. Willie Obiano had visited DFID in Abuja immediately after the elections to exchange views on areas of future collaboration between SPARC and ANSG.
SSG Oseloka H. Obaze while underlining the four pillars of the Willie Obiano administration and the various sectoral enablers that would drive the economic development platform, commended SPARC for its sustained support to Anambra State and expressed the hope that the commitment would continue. He acknowledged the benefits of the ANSG-DFID partnership and the overall interface with donors and development partners.
SSG Obaze stated that Gov. Willie Obiano had restructured the state module for engaging with the donor community to ensure that each donor partner had an officer to interface with. He thanked SPARC for its recent assessment of ANSG's monitoring and evaluation capability, which he said would help officials clear up pervasive the mix-up of monitoring and evaluation for inspection or supervision of projects.
2014-05-08 162603
2014-05-08 162622
2014-05-08 162641
2014-05-08 162709