Find Our Girls Or Resign—Group Yells At Jonathan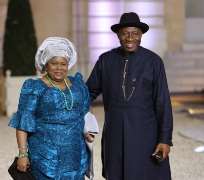 The National Union of Ogoni Students' USA, an umbrella organization of Ogoni students in Diaspora rose from a meeting on Sunday May 4th, 2014 following the deplorable, dreaded, and frightful security situation in Nigeria and the abduction of over 234 students in Bornu State, bombing at Nyanya; kidnapping (now a new trade in Nigeria), and the tussle at the National Conference. We therefore issue the following statements:
That,
1. We are appalled by the actions of Boko Haram and condemn in strong terms the abduction of 234 Nigerian students from their dormitories by the insurgent group. We urge the militant sect to show decency and release the abducted students to their parents unconditionally and without harm so that they could continue with their education. We are in prayers with the agonizing families of the abducted Students and the good people of Nigeria.
2. According to Henry Clay, 'Government is a trust, and the officers of the government are trustees, and both the trust and trustees, are created for the benefit of the people.' Therefore, following President Jonathan's insensitivity and ineffective handling of affairs in Nigeria (from the environmental problem in Ogoni to the abduction of school students in Bornu State), he has shown enough inhumanity, lack of remorse, and failure of leadership. Leadership has responsibilities and he should bear the brunt of his failed leadership. Nigeria is now a failed state and the president has failed the Nigerian people and it is time President Jonathan should take responsibility for government failures under his watch and resign with his cabinet. He should borrow a leaf from the Prime Minister of South Korea, Chung Hong-Won who took personal responsibility for the April 16 disaster that left over 300 students and teachers dead. Nigeria cannot sacrifice 234 students for ineffective leadership.
3. We are calling for his resignation because as President and Commander-In-Chief of the Armed Forces of Nigeria, President Jonathan should have immediately declared war against Boro Haram sect on April 15, 2014 following the abduction of the Chibok school students. This should have shown it is against Nigerian and international laws to abduct students who are the future of a country. He should have shown clarity, leadership and proactiveness in the search for the missing students. The General Ibrahim Sabo (rtd) Presidential Fact Finding committee is an afterthought, a step in absurdity, a sham and should be ignored because it is time wasting and will not yield any result.
4. We expected him to have visited Chibok Secondary School in Bornu State to show solidarity with the school, parents of the abducted students, and people of Bornu State, and importantly convey the resilient of the Nigerian government. He should have commenced a Diplomatic visit to Cameroun, Chad, and Niger Republic to solicit help on bringing back the chibok girls and also harmonize position with these neighboring governments on how to handle and eradicate the dreaded Boko Haram terrorist Sect.
5. He should have within days of the abduction sought expatriate help from ECOWAS, African Union (AU), and the international community in the search and fight against Boko Haram. With joint efforts, the sources of funding Boko Haram could have been discovered and eradicated. He should have immediately investigated the Godfathers of the Boko Haram Sect which is rumored to have funded the terrorist group to the tune of $70 million. Government (for long) should have enacted Anti-money laundering and anti-terrorism financing and other separate laws to deal with terrorism and terrorist acts.
6. The failure of the Nigeria military to immediately invade the Sambisa forest was a failure of leadership from the commander-in-chief. Time has passed and these girls have been moved to Niger Republic, Cameroun, and Chad. His inaction is a clear manifestation of his incompetency and inefficient handling of conflict. His sense of reasoning was perhaps truncated by his vision for 2015 re-election but it is now time someone takes responsibility for government failure in Nigeria.
7. He should have since 2011 sent a bill for compulsory education to the National Assembly making primary education compulsory for all school age in Nigeria and banning under- the- tree Islamic schools operating in Northern Nigeria.
8. He should have established a specialized military squad trained and modeled after anti-terrorism squad in Algeria, Malaysia, and Ireland to put the activities of this sect and other violent groups under control since he took office.
9. We urge Churches, mosques, civil society, and students to seize this opportunity to match for change and demand accountability and responsible leadership in Nigeria.
10. The delegates at the National conference should seize this opportunity to change the status quo ante by ensuring that true federalism whereby all federating states in Nigeria will have control of their resources is instituted in the Nigerian constitution; that state police is established; political immunity discarded for politicians; and stringent laws against kidnapping established in Nigeria.
Again, our hearts are with the abducted chibok Students and their families, the people of Bornu State and the people of Nigeria. We call on all well-meaning individuals around the world and Nigerians with useful information to share with the Nigeria authorities so that the students could be freed and re-united with their families and importantly continue with their education. It is our position that if President Goodluck Jonathan could not account for the chibok students within 45 days from today, he should resign his presidency.
Long Live Education!

Signed,
Pius Barikpoa Nwinee
President
Sampson B. Npimnee
Secretary

For: National Union of Ogoni Students, USA