A Memo From Jobless Nigerians To Delegates To The Abuja World Economic Forum
On 'Forging Inclusive Growth, Creating Jobs'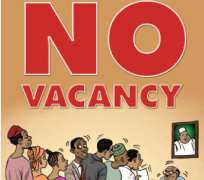 Distinguished Delegates,
The theme of your 24th Annual Meeting holding in Abuja, 'Forging Inclusive Growth, Creating Jobs', raises great optimism that the Forum understands the critical challenge which unremitting mass unemployment has posed to the Nigerian people since the late 1980s. The theme perfectly agrees with 'Budget of Fiscal Consolidation with Inclusive Growth' and 'Budget for Job Creation and Growth' which Nigeria's past three annual budgets (2012 to 2014) have been christened.
Our sad experience in Nigeria has been that in spite of governments' belated official acceptance of the existence of a disruptive high level of unemployment, the previous and current declared commitments to combating the menace have proved abysmally ineffective.
It is hoped that your coming will afford Nigeria's economic management teams and government policy advisers with the opportunities to peer-review, think out of the box, and re-evaluate the efficacy of alternative approaches hitherto offered by patriotic Nigerians, but consistently spurned by the economic teams and governments.
It is hoped that the delegates will avoid the pitfalls of flowery plenary sessions with subsequent obtuse and entertaining communiqués, but will rather critically proffer nuanced positions on how to immediately create millions of jobs as to offer desirable immediate reliefs. Alternative opinions abound for reviews on a number of strategic policy issues.
First, it is objectively and strongly argued that Nigeria's mass unemployment is caused more by bad governance that led to the death of many public and private enterprises with the associated dilapidation of socio-economic infrastructure, and not particularly by dearth of entrepreneurship among Nigerians; endemic corruption is the nickname of this key bad governance phenomenon. So, it is logical to first tackle pervasive and endemic corruption, and re-build the dilapidated infrastructure for the thriving of entrepreneurial activities (whether by private or public means or any other configuration).
For Nigeria where President Jonathan has publicly complained of a looming 'parliamentary dictatorship', the delegates could draw from global experiences to suggest ways of taming the rapacity of Nigeria's legislators: how can the N150bn annual budget haul of the federal parliamentarians be reduced to a more reasonable level of about N25bn, and thus make elective offices less attractive to men of questionable integrity, reduce the overall cost of governance, release more fund to address the infrastructure deficit, and finally galvanize the economy for real growth and job creation?
Currently, neither Nigeria's economic management team nor the President has the powers to trim the parliamentarians' bloated budgets with the associated disruptive wage crises. Kenyan President Kenyatta can let the Nigerian President and people know how he was able to cut the bloated salaries of parliamentarians in Kenya. Similarly, delegates can propose the type of measures adopted to discipline indicted legislators in similar parliamentary scandals in other countries like Britain, Canada and Nova Scotia.
Massive job creation cannot occur without the necessary infrastructure, which in turn cannot be sustainably provided with the level of corruption fueled by bloated governance apparatuses.
As is the case in the involvement of international intervention in Nigeria's security terror, so is international intervention required to fight Nigeria's corruption terror that is killing even more Nigerians than the former. The delegates must extract a commitment from President Jonathan on credible new measures and timelines for dealing with systemic corruption in Nigeria.
Second, critical among this infrastructure deficit is power supply: let the delegates assess Nigeria's current grid power system configuration in the midst of grossly inadequate generation and transmission capacity. With abundant gas reserves and solar power options, is the power industry policy not afflicted with an asphyxiation of technical orthodoxy? Could we not have fared better by opting for small- to medium-sized cluster generation to offer immediate relief to dying industries and suffering human beings? Is it not too late in the day for Nigeria to start fresh arrangements for importation of power from far away Congo? Again, let the delegates confirm whether millions of jobs will be created and sustained if the politicians and top public officials consume less of the budget and allow the establishment of small-holder/cluster generating plants as an interim measure.
Third, disruptive job creation and labour policies: the ineffectiveness of Government's YOUWIN, NDE, SURE-P policies have become very glaring, and ought to be discontinued in favour of more inclusive schemes like the cooperative development strategy of engagement. More people will be reached at a lower unit cost of productive and sustainable job. Again, let the Chinese President tell us the benefits of wage restraints and pragmatic labour policies in a determined effort to place more people on job.
Fourth, tackling financial cultism through universal credit system: let the delegates confirm if the private sector can thrive and create sustainable jobs in the real sectors of the economy with interest rate hovering around 25%, or where supposed micro-finance institutions lend at 10% per month. How have delegates' countries evolved universal credit systems to galvanize the latent creativity of their citizens?
Apart from the conventional issues the Forum is billed to address, the job creation objective of this meeting will be greatly served by satisfactorily outlining nuanced positions which the current economic management team must adopt on the above specific items. It is in this way that the teaming unemployed will greatly appreciate the sacrifices made by the delegates, hosts and organizers of the 2014 World Economic Forum in Nigeria.
Victor TC Anyanwu
Snr. Economist/Executive Director.
+234(0)8036676651; E-mail: [email protected]ahoo.com