Yoruba People Are Wicked And Ingrates, I Will Never Have Anything To Do With Them In This World—Ngige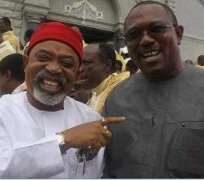 Any moment from now, Dr. Chris Ngige will re-join PDP. He has been making clandestine moves, reaching the Presidency to handover the structures of the party [APC] in Anambra State to him and assured them that he will deliver President Goodluck Jonathan thereafter.

Ngige who revealed his being tired with the APC, said that APC controlled by the Muslims and Yoruba people has no place for Ndi Igbo.
Ngige is regretting supporting the APC against his people during the deportation saga. According to him, he supported the deportation of Ndi Igbo to Anambra State and even went on air to call those deported 'mad people' to save the image of the APC and regrets that, the act, according to him, cost him the governorship of Anambra State.
Ngige said that what pained him most was that any act he engaged in to reclaim his image among his people was not supported by the APC, once it is something that will be of benefit to the people of Anambra. 'Look at my stand on Second Niger bridge, where I disagreed with the tolling plan for the bridge, hoping to use the politics of the bridge to reclaim the love of my people.
...Surprisingly, not a single APC member supported that or made a statement supporting that. If it were something to benefit the Yorubas, Lai Muhammed would have made a music of it', the frustrated Ngige said.
It was learnt that part of the problem Ngige is having is the 5-Billion Naira campaign refund Tinubu is demanding from him.