Oputa Was The Lord Denning Of Nigeria-Obi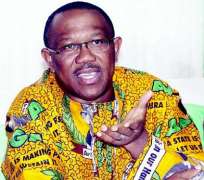 Chief. Peter Obi, OKWUTE NDI IGBO has described the death of Justice Chukwudifu Oputa who died at the age of 96 as a glorious transition to the beyond.
Obi who recalled his exploits in the judiciary and contributions to the development of jurisprudence described him of the "Lord Denning of Nigeria."
His words: "If the great biographer, Plutarch were alive today to write lives by parallel, he would find no difficulty pairing Lord Alfred Denning and our own Justice Oputa. Both approached law more from jurisprudence, insisting on examining the philosophical underpinnings of different laws and interpreting them in manners to serve the needs of man and the society in the most just manner", Obi said.
Speaking further, he said the greatest service to the memory of great sages such as Oputa was to make their wisdom function actively in the society through the preservation of their legacies.
Describing him as great and courageous judge and a man imbued with sound values, the types lacking in the world of today, Obi appealed to the Judiciary to use such people as case study on the way forward for the judiciary.
Obi prayed to God to grant the Judiciary, people of Imo State, his immediate family as well as entire Nigerians the fortitude to bear the loss.