Nigeria's Trade Unions Confer Award On Gov. Orji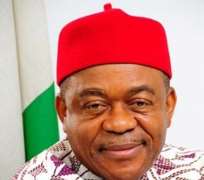 The Abia State chapters of the Nigeria Labour Congress (NLC) and Trade Union Congress (TUC) have conferred the award of the Hero of the Nigeria Public Service on Governor Theodore Orji in appreciation of his good works in the state.
Also conferred with the award of Pillar of the Nigeria Public Service is the wife of the Governor, Lady Mercy Odochi Orji, for her supportive role to her husband which has enabled him to excel in government.
Speaking before conferring the awards on the Governor during the celebration of the 2014 annual Workers' day at the Ibeku High School, Umuahia, the state chairman of the NLC, Comrade Sylvanus Eyeh, said the governor after 22 years of the creation of the state has laid a solid foundation for the state.
According to him, Governor Orji is a pride to the Abia Public Service which had earlier celebrated him as the Icon of the Public Service, adding that a combination of the private and public service sectors resolved to honour him as the hero of the Nigeria Public Service in recognition of his exemplary leadership potentials.