CABINET DISSOLUTION: ADEBANJO, OKUNRONMU, ODUMAKIN, PRAISE JONATHAN'S COURAGE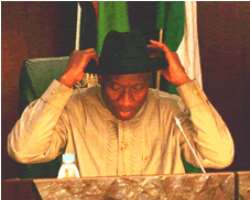 Cabinet dissolution: Adebanjo, Okunronmu, Odumakin, praise Jonathan's courage
From MOSHOOD ADEBAYO, Abeokuta
Thursday, March 18, 2010
For Senator Femi Okurounmu, it was courageous for the Acting President, Goodluck Jonathan, to have dissolved the Federal Executive Council, saying 'with the action Jonathan has demonstrated that he is in charge of the nation's administration.'
Okunronmu, who is the Secretary of the pan Yoruba socio-cultural group, Afenifere, while commending Jonathan, said, 'I must commend Jonathan for having the courage at last to dissolve FEC, because as acting president he must know that he is fully in charge of the country and all authority derive form him.
Okurounmu said, 'all ministers, working under him, are responsible to him and he is responsible to the nation. He and Yar'Adua have a common mandate. He must ensure that those working with him are those that he can trust for him to deliver good services to the people.'
'And so, he, as acting president, must take full responsibility for their performance and non-performance because the country did not elect all ministers, the ministers must be responsible to him. He must set a new pace for the country in terms of development activities, renewed war against corruption and let the country truly believe that he is fighting corruption.
The former Special Adviser on Women Affairs, Chief (Mrs) Titi Ajanaku, who also spoke on the development said the only thing that was constant was change, adding that it was expected of the acting president to look at things that would be of benefit to the overall interest of the generality of the people. 'Even when government does not change, there is possibility for cabinet reshuffle.'
The Publicity Secretary, Save Nigeria Group, Mr. Yinka Odumakin, described the decision as good raddance to bad rubbish, stressing that Jonathan had now become action president in place of acting president.
He said, 'heaven will not fall for all the right and courageous decisions he needs to take as Nigerians are behind him. He should now look across the length and breadth of Nigeria for the best.
A chieftain of Afenifere, Chief Ayo Adebanjo, said the move was a step in the right direction, adding that the cabinet had hitherto had divided loyalty.
He said, 'it is, therefore, necessary for the acting president to show that he is completely in charge by choosing a team that he can work with. He has no excuse for non performance or slow performance.'
The Chairman, Action Congress, Ogun State, Alhaji Ola Bello, described the dissolution of the federal cabinet as a welcome development, saying that Jonathan had demonstrated his determination to be 'his own person.'
Bello said, 'it is an opportunity to select technocrats to run the government. He should just concentrate on power, electoral reforms and Niger Delta