CJN, put rogue judges in the dock – Punch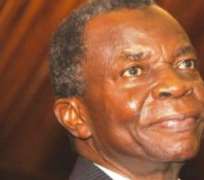 Ayo Salami's recent outcry that corruption in the judiciary is still deep-seated is a sore that has refused to heal. His rage was against retired senior jurists who have perfected the act of bribing serving judges to pervert the course of justice. The practice is most abominable; it is a symptom of a judiciary in need of redemption. Salami, a retired President, Court of Appeal, at a conference of the Ilorin branch of the Nigerian Bar Association early this month, also decried the habit of judges meekly submitting to political authorities in order to get patronage.
He was right on target with the view that judges clearly identified as corrupt were being protected by the system.  He said, 'It is my respectful view that (an) appeal should be made to those retired senior justices to leave the despicable role of bribing or intimidating judges. They should engage themselves in other respectable vocations… The problem of corruption in the Nigerian judiciary is real and has eaten deep into the system.'
While his alarm is quite unsettling, it is obviously not new. But what is more disquieting is that the vice is not treated with the urgency it deserves by our judicial and political authorities. Before Salami, the late Kayode Eso, a justice of the Supreme Court, and the immediate past President of the NBA, Joseph Daudu, a Senior Advocate of Nigeria, had preached against these unethical practices.
Daudu once exclaimed, 'There is a growing perception, backed by empirical evidence, that justice is purchasable, and it has been purchased on several occasions in Nigeria.'  Eso also referred to some of those who compromised their integrity while presiding over election petitions at tribunals as 'billionaire judges.'
As a matter of fact, with judges that compromise, the judiciary loses the respect and awe it used to enjoy in the days of yore. Judges without integrity trade in reckless interlocutory injunctions; grant reliefs not sought by plaintiffs, give judgements that have no basis in law, while cases could remain for years unattended to in their courts. Ultimately, they live above their means. If anyone is still in doubt about the desecration of the temple of justice, the testimony of Ibrahim Auta, Chief Judge of the Federal High Court, finally clears the doubt. He said, 'Corruption is the only reason that can explain the snail speed at which the administration of criminal justice is moving in Nigeria. Some judges are looking for the slightest opportunity to avoid sitting.'
Judges without character run against the grain of Chief Justice of Nigeria Mariam Mukhtar's avowal to make the judiciary truly hallowed when she was sworn in in 2012. Also, at a law summit organised by the Nigerian Institute for Advanced Legal Studies in June 2013, she said, 'Under my watch, there shall be zero tolerance for corruption in the Nigerian judiciary and zero tolerance for contravention of the code of conduct for judicial officers.'  However, without the rogue judges and lawyers who aid them being brought to book, these declarations will just be empty mantra.
Yes, some judges have been indicted or sacked by the National Judicial Council, the judiciary's disciplinary body, but nobody with established case of compromising his office has been put in the dock. Covering up such felons is highly duplicitous for the Mukhtar-led NJC, many of whose members sit in judgement over citizens for such crime.
Things work differently in other parts of the world with a sound judicial system. In the United States, Judge Thomas Spargo was jailed for 27 months in New York for attempted extortion and $10,000 bribery. Richard Pilger, the prosecutor, told the presiding judge that a message had to be sent that 'corruption in a judge's seat does not go unpunished,' adding, 'without a legal system free of impropriety, nothing works.' Similarly, a Pennsylvania judge, Mark Ciavarella, was sentenced to 28 years in jail for accepting a kick-back.
Unfortunately, this judicial candour does not exist in Nigeria.  Between 2003 and 2011, not a few judges were dismissed for turning election tribunals into their acres of diamond. The scourge was so pronounced in 2007 that a group submitted to the House of Representatives Committee on Justice, a petition alleging that a governor paid N2.7 billion bribe to tribunal members, using a retired senior jurist, to win his case. Pressure from outside made the committee to chicken out from its earlier resolve to investigate the matter.
Mukhtar and the NBA, led by Okey Wali, a SAN, ought to have known by now that merely retiring corrupt judges and allowing them to go and enjoy their ill-gotten wealth does not cleanse the judiciary; instead, it aggravates and entrenches graft.
The trial of James Ibori, a former governor of Delta State, for corruption, which ended in the quashing of all the 170 charges against him in Nigeria, only for him to plead guilty for the same offences in the United Kingdom, when the case was at its inchoate stage, further exposes the stench in our judicial system.