SAMBO WOOS CBN, INVESTORS ON PRIVATE PUBLIC PARTNERSHIP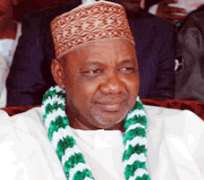 Sambo woos CBN, investors on private public partnership
From NOAH EBIJE, Kaduna
Thursday, March 18, 2010
Governor Mohammed Namadi Sambo of Kaduna State, has presented a paper to the Governor of Central Bank of Nigeria , Mallam Lamido Sanusi, and other commercial and investment banks Chief Executives on the Public Private Partnership (PPP) arrangements. The event took place on Saturday, March 13, 2010, at the Civic Centre, Victoria Island, Lagos.
Sambo in his address, pointed out some of the salient developmental and business opportunities that could be of economical advantage for would-be investors and interested parties in Kaduna State.
He sited the new Kaduna Millinenium City, the 34 mega-watts hydro power in Gurara situated within Kaduna Industrial Area and the 84 mega-watts thermal power plant, which is being executed by the Kaduna State Power Company (KAPSCO), China Equipment Machinery Company (CEMC) and Hentic Engineering Services.
The last of the two electricity projects are to provide 10 mega-watts thermal power plant to cater for the revival of the moribund textile industries in the state. Other projects, according to Sambo, are the irrigation schemes, dams' constructions at Hitisi, Bakin Kogi and Yola Buruku, the newly constructed shopping mall, a one stop-stop, bridge construction linking Kaduna North and Kaduna South as well as minerals deposit exploration.
The event, which was attended by captains of industry, diplomats, and top civil servants, politicians and members of Kaduna State Executive Council included, Alhaji Muktar Ramatar Yero, Hajia Zainab, Mohammed Yaw, Sani Sidi, Umar Sani and others.
The CBN governor described the state government as a thorough and ground breaking administration in the area of security, railway rehabilitation and education. Sanusi assured the state governent that experts from sectors that need attention will be visiting the state to access and inspect the on-going and completed projects mentioned and find a way of partnering with the government in the areas identified.