Nigerians Impress Coaches At Airtel/Arsenal Soccer Clinic In Rwanda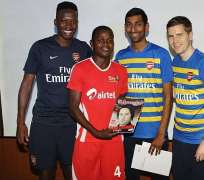 Kigali, Rwanda; Tuesday, April 29th, 2014: Nigeria's contingents to the on-going Airtel/Arsenal Soccer Clinic in Rwanda have earned the admiration of the entire Arsenal technical crew as they have shown that they are not just good footballers on the pitch but also exceptional students of football psychology, history and analysis in the classroom.
During the Classroom session on Day 1 of the clinic, Joy Falegon, a Nigerian female participant, was the cynosure of all eyes when she emerged the overall best student in a quiz that was based on Arsenal and English Football history.
Aside scoring the highest mark in the 30 minutes multiple choice academic exercise, she also took the lead in providing practical solutions on another exercise that focused on notable quotes from Arsenal legends.
Also, Olu Gabriel, a Nigerian male participant, held the class spellbound on Day 2 of the Soccer Clinic when he gave an insightful presentation on the physical, psychological and emotional make-up of exceptionally talented players. Immediately after his five minute presentation, the class stood in honour of the youngster just as the Arsenal Technical Crew honoured him with a gift.
Speaking after his presentation, Rupen Shah, Arsenal UEFA certified coach, commended Gabriel for his brilliance, deep understanding of football psychology, and for the way he embellished his presentations with copious, fitting illustrations.
"This is absolutely brilliant. Gabriel has just given an inspiring presentation and we must all continue to applaud him for his insightful perspectives," he said as he pulled the youngster closer.
Luke Wilson, Arsenal Partnership Executive, also showered encomiums on Gabriel, urging him to continue to work hard. He, thereafter, presented a valuable Arsenal memorabilia to the attacking player who was the highest goal scorer in the 2013 edition of the Airtel Rising Stars National Championship in Lagos.
The six players flying Nigeria's flag at the one-week soccer clinic in Rwanda include Rilwan Adeleke (Best Goal Keeper, Male), Olu Gabriel (Highest Goal Scorer, Male) and Wisdom Uforo (Most Valuable Player, Male).
Others are Augustina Boniface (Best Goal Keeper, Female), Falegon Joy (Highest Goal Scorer, Female) and Kafayat Shittu (MVP, Female). The Arsenal Soccer Clinic will run from today, Monday, April 28 to Friday, May 2nd, 2014.
The Arsenal, UEFA certified coaches supervising the soccer clinic are Rupen Shah and Nathan Asare. Rupen Shah is currently assistant manager of the Under 11's team at Arsenal Ladies Centre of Excellence, and has coached for Arsenal for a number of years both in the UK and Internationally.
Nathan Asare is currently part of the Arsenal Football Club Community Coaching team, delivering football sessions in and around the local community, and as part of residential courses both in the UK and Internationally. He is also responsible for the management of the prestigious Arsenal FC Ball Boy Squad on match days.
The Airtel/Arsenal prestigious soccer clinic features courses covering Dribbling/Turns/Dominating, Passing, Receiving/Control and finishing and shooting. The kids will also be taught courses on personal management, personal effectiveness, leadership and motivation.
The Airtel Rising Stars pan Africa football programme attracted over 18,000 youth teams and 324,000 youth players across 16 countries in 2013. In addition to galvanising the biggest turnout during the championship stages, the program has also broken new ground by introducing girls to a pan African tournament.
About Bharti Airtel

Bharti Airtel Limited is a leading global telecommunications company with operations in 20 countries across Asia and Africa. Headquartered in New Delhi, India, the company ranks amongst the top 4 mobile service providers globally in terms of subscribers.
In India, the company's product offerings include 2G, 3G and 4G wireless services, mobile commerce, fixed line services, high speed DSL broadband, IPTV, DTH, enterprise services including national & international long distance services to carriers. In the rest of the geographies, it offers 2G, 3G wireless services and mobile commerce. Bharti Airtel had over 295 million customers across its operations at the end of March 2014. To know more please visit, www.airtel.com