Interview With Minister Of State For Power, Hon Mohammed Wakil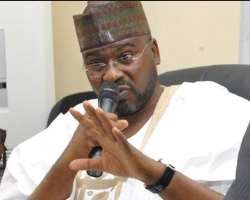 You have gone round your state a minister of the Republic. What impression are you taken to Abuja?
Minister- I will say positive impression. Borno is passing through very difficult momemts . In our thousands of years of civilisation,our people have never witnessed this level of suffering. It is nothing but man inhumanity to man. Imagine the continued abduction and killings of innocents civilians.This is the height of insensitivity and inhumanity. The pain cannot be described in words. But these trials have not cowed my people . Despite the very difficult situation ,our people are making the best out of the situation. I commend resilience of leaders and people of Borno state. Borno has not and will not surrender to terrorists .
Let me also say this-the security agencies are doing their best to restore peace . I met the security chiefs in the state. I was at Maimalari barracks. I met our troops and their commander. Our service personnel are committed. I think they need our support rather than condemnation . The civilian JTF are also fantastic. So I am optimistic that this trial shall pass. Borno shall rise again by the grace of Alllah.
The Shehu raised some issues such as security ,Chad basin ,what messages are you taken back to Abuja?

Minister- Yes,I took full notes of what our royal father told me. I assure his majesty that the president is personally committed to combatting this insurgency. Of course,I explained the many ongoing federal projects in the state despite the insurgency. The visit affords me the opportunity to officially listed the many initiatives of the Federal Government. I took the messages of my people to Mr President in Abuja.
How challenging is it to enter insurgents' strongholds as you did?

Minister- Nothing unusual. You know this is my state. These are my people. I visited the inner parts of Maiduguri. I met top leaders . I feel fulfilled as the visitation allowed me to know the extent of devastation the city and state is passing through.I also know what to look for to help my people in line with the presidents agenda for peace and security. At the hospital,I wept at the many injured victims of Boko haram . From the General to the Specislist hospitals,we saw the real victims of the insurgency- women,kids. The situation is pathetic.
So what is the way out of the conflict?

Minister- Dialogue ,development and unity- those are the way out. This is what mr president is pursuing . But we must agree that security is everybody business. It is no longer about Federal Government as many commentators often say. The anti terror campaign is about states,religious institutions,royal fathers,civil society,professional groups alongside the security agencies. It will be unfair to blame president Jonathan for the insurgency or for the lingering conflict.The Federal Government with support of other stakeholders has curtailed the insurgency to a large extent. Within Borno,the insurgents are no longer able to attack hard targets; they now killed defenceless citizens .
One fact is also clear-terrorism is a global issue. We have a trans national conflict at hand . Like I said earlier,Nigeria shall overcome . But we all must rally round mr president in this fight against the terrorists.
In your interaction with security chiefs,what impression do you have of security preparedness in the ongoing counter insurgency ?

Minister- I may not want to disclose details of my meetings with the security chiefs. But as to state of readiness of our security agencies,I believe they are prepared and ready. You are fighting a guerrilla war,you see a totally new form of combat. You are facing an unknown,unseen enemies. So we should learn to be supportive of our servicemen . Whatever shortcoming we may notice in the anti terror war ,we should stand by our troops. We should criticize them constructively and avoid utterances and actions capable
You visited the transmission substation project along Damboua road ,what is the stage of completion ?
Minister- That is one of the key projects under the power sector reform . You know it is located along an area many considered insurgency belt. But the sub station project has progressed so well. The project manager said it is 80 percent completed . That means completion is in sight before long. All issues raised by the contractor are been looked into.
How secure is the site?

Minister- Well,it is well fenced and from accounts rendered by the project manager ,the site is secure. But we are not leaving anything to chance . Government has ordered beefing up of security around all federal ongoing projects.So I can safely say federal projects are progressing despite the insurgency. The fact is the conflict has not stopped efforts of the federal government to develop Borno and the north east as a whole.
On power, Nigerians are worried about poor power supply after privatisation . What exactly is the problem?

Minister- I will answer your question by appealing to Nigerians to be patient with the administration. We are passing through a transition from public to private sector based electricity system. We are undergoing a fundamental ,structural transformation of the energy sector. We cannot pass this stage without hiccups here and there. I plead with Nigerians to remember what happened in the telecom sector. It started roughly but today we have made great advances.
Now to your question. The power supply situation is facing challenges because of some transitional issues. We have to supply adequate gas to fire the power plants. Efforts are on in that direction. We have issues with vandalism of gas and transmission lines. You remember I called it infrastructure terrorism. Government has also moved to secure our critical national infrastructures. For us in the power sector,plans are underway to secure electricity infrastructures nationwide through certain initiatives. This will soon be unfolded. The DISCOS,GENCOS are just settling down. We also need massive investment in the transmission and renewable energy sectors.
Despite all the above,this administration has recorded giant strides in the power sector reform. The privatisation of the power sector is an historical landmark no body can deny. The administration deserves accolades for this feat. This is not to say we are there yet. There are challenges which we are all working to sunmount
Any solution in sight?

Minister: The power sector reform is the way out . We have gone a long way. After this transitional stages ,we expect all knotty issues to be resolved. Government is also working on new innovations to address the electricity needs of our people. I assure Nigerians that we are on track despite current challenges.
If conventional power source is facing challenges,what is government doing about alternative renewable energy source?

Minister- Considerable efforts are going into development of renewable energy resources of this country. The goal is to generate electricity through wind,solar ,biomass and hydro sources. Several projects are ongoing in this respect. A 10 megawatt wind farm is nearing completion in Lamba Rimi ,katsina state. Several hydro projects are ongoing for power generation. Of course,solar energy is gaining ground in the area of electricirpty generation. But more specifically ,a national policy on renewable energy for electricity generation is undergoing review by stakeholders and will soon be finalized . The policy will drive the nation's drive towards clean sustainable power generation.
When will the policy be unveiled?

Minister- Once we conclude the consultation,we will seek approval of the Federal Executive Council. I assure the nation and all stakeholders that the policy will soon be ready. It contains goals,strategies in the areas of wind,solar,biomass and hydro power.
On politics,some observers believe Borno PDP is dead. How will you react to this?

Minister- That viewpoint is wrong and unfounded . Pdp in the state is alife and kicking. We have issues no doubt. But it is an exaggeration to say pdp is dead in Borno. Issues we had before had to do with focus and leadership. Those problem are off now,the PDP is experiencing great revival .let me give you an example. During the North East rally held in Bauchi,Borno overtook many other states in term of mobilization. Despite insurgency,Borno PDP was acknowledged by many leaders. Before the rally ,we had a meeting to review the state of the party and plan ahead. Also you witnessed the stakeholders meeting held . Leaders from across the 27 local governments attended. So tell those who think pdp is dead that we are alife and ready to win future elections.
But there are reports of mass defections?
In politics,people are free to move if they feel like . We also know political prostitutes who move around for economic reasons. But the fact is real pdp members don't move around. They are forever remain loyal to the party. So in Borno,real pdp members are on ground . For those who defect,we will welcome them when they return. So to answer your question ,reports of mass defection is false. We have one or two here and there. Even those ones are pleading to return to the party now.
So what are you doing to rebuild the party in the state?
Minister- Well,I am leading other leaders to give direction to the party. First is to ensure strong leadership. Second is to pursue reconciliation. Three is to rebuild the party structures. We are doing all the above.
Is the party ready for 2015?

Minister- Yes,we are ready. We are not just ready to contest,we are ready to win.