Boko Haram: Commissioner Denies Nema's Report On Total Collapse Of Health Facilities In Borno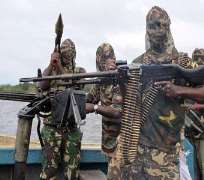 BORNO state Commissioner for Health, Dr. Salma Anas Kolo yesterday expressed shock over a report credited to National Emergency Management Agency, NEMA that about 37 percent of health facilities particularly in volatile local government areas have collapse due to the violence perpetrated by members of BOKO HARAM.
Dr. Kolo made the denial at a press conference marking this year's World Malaria Day with is theme, ' Invest in the Future, Kolo said, contrary to NEMA'S misleading report that the ongoing BOKO HARAM menace had led to the closure of many health care facilities and hospitals across the state, there has been no government health institutions that has been closed down for even a day, as they remained opened on daily basis delivering services to its people.
She said, her ministry and the people of the state are highly disappointed with NEMA, as according to her, "the agency is just acting on lack of evidence based information that could lead to misleading the general public, and that NEMA should please liaise with WHO, NACA, NPHC and other partners who have credible information on the health system and it's operation in Borno".
The commissioner while acknowledging the effort of governor Kashim Shettima in upifting the health sector through prompt payment of counterpart fund to donor agencies like the World Bank among others, noted that Borno is among the six states of the country nominated as states which have done well in the eradication of malaria.
She said, though, there were some cases of deaths or infections due to malaria that were under reported in some communities, notwithstanding, in the last one year, only 406,000 reported cases of malaria was recorded, and that out of this number, 500 infected persons died while receiving treatment, and therefore advocated that people living in the state should always go for Rapid Test Diagnosis in nearby health institutions, as according to her, both test and drugs are given free patients across the state.