ANICHEBE IN RACE AGAINST TIME FOR WORLD CUP CALL UP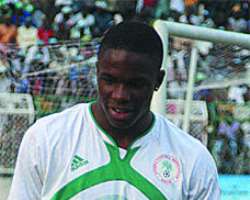 Anichebe in race against time for World Cup call up
By Our reporter
Thursday, March 18, 2010
Everton's striker, Victor Anichebe, is hoping to make a late run for Nigeria's World Cup squad. While he knows his chances of forcing his way into Nigeria's boss, Lars Lagerback's, plans for South Africa are slim, he has not given up hope of a call-up.
Anichebe said: "It would be nice, but obviously I have been out injured for so long.
"I am just looking at playing for Everton as I have been out for so long. It would be hopeful to think about the World Cup but we will just have to see what happens."
He added: "The season seems to have flown by for some of the players but for me it is just nice to be playing as I have only returned for the end of it.
"I am just happy to be involved."