My Thoughts On Prince Eze Madumere!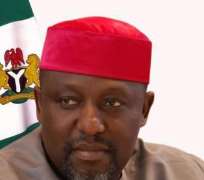 I didn't say it; he said it! He inspired the title of this piece; it was on his last anniversary celebration. 'Mr. Humility', like his erudite Chief Press Secretary, Uche Onwuchekwa, would call him, was at it again. Quoting him, he said: 'I am happy that we have demystified the Office of the Deputy Governor'. It was a remark made by His Excellency, the Deputy Governor Imo state, Prince Eze Madumere, while reacting to the surprise mini party put together by staffs of the Office of the Deputy Governor to mark his anniversary.
Unbelievably, the Prince forgot his one year anniversary as the Deputy Governor due to work ties, but was immediately available soon as he was called upon by the staff regardless he was on his way out for a crucial engagement.
'Absolute power corrupts absolutely', but for Prince Eze Madumere, Power is a subduing force that breaks a man unto quality service to humanity.
With a very clear understanding of the biblical power of equality; all men are equal before God. He exercises power as a function to achieving leadership success. Quoting him on that day, he said: I am but a human-being like you all; I get uncomfortable when staff scamper at my presence, though I appreciate respect for the Office, but most importantly I expect you to be yourselves; words coming out from the mouth of the main man, an edifice of exemplary leadership, Owelle's only true political son, Prince Eze Madumere!
Leadership in Nigeria is 'man playing god over man'; poor masses are left to be trampled upon. With little or no say, their opinions are marginalized giving leadership enough room to arrogate authority. But for Madumere, like his boss, His Excellency Owelle Rochas Okorocha, 'authority given is authority to make live'. Prince Eze Madumere has certainly proved book-makers wrong. His appointment as Deputy Governor has redefined the office. To suggest the apprehension that has long characterized the office of the Deputy Governor in the past understates it, until Madumere came with a power-detonating touch of simplicity.
It takes a true leader to understand that power comes from God. God cannot be seen but felt; same as power. Maybe that is why only those that feels the hand of God in their making ordinarilize power while giving glory to God almighty. Thank God for our amiable Deputy Governor, His Excellency Prince Eze Madumere.
He sees the intoxicants and avoids them; instead he accommodates team purpose, togetherness and love, with a sublime execution of his duties as the Deputy Governor. Prince Eze Madumere is a complete embodiment of true leadership, he is reachable, he is approachable and he equally is advisable, a listening leader; seeing through the eyes of his political father and mentor, His Excellency Rochas Okorocha, Madumere sees the people's desire, like he once said: 'I see all of you, I see your pains and I know them, at the appropriate time it shall be a thing of the past'.
It is said that the taste of the pudding is in the eating. One day he shall come your way and you shall experience the touch of the deputy, as it is the duty of the Prince to take care of the kingdom while the king watches in admiration and joy. Once again, I enjoin Imolites to queue up behind this man; he is what he is, a Prince, and a Prince at heart too! Long live Imo!!
IKECHUKWU GILBERT
[email protected]
Disclaimer:

"The views/contents expressed in this article are the sole responsibility of

Ikechukwu Gilbert

and do not necessarily reflect those of The Nigerian Voice. The Nigerian Voice will not be responsible or liable for any inaccurate or incorrect statements contained in this article."