Abducted School Girls: Parents Disputes Figures Of Rescued Ones As Gov Shettima Visits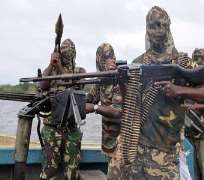 The parents of the school girls abducted last Tuesday by some Boko Haram terrorists in Chibok Local Government of Borno state on Monday told Governor Kashim Shettima that only 29 out of the 250 students were rescued, contrary to government official's report that 44 students have been rescued out of 129 who were writing their senior secondary school certificate examinations, s.s.c.e.at the time of kidnap.
The aggrieved and traumatized parents spoke at the premises of the ill-fated school when governor Shettima paid them a sympathy visit.
Speaking on rbehalf of parents , Mallam Shettima Yau Haruna told the Governor that since the incident , they have been having sleepless nights as they took courage and entered the sambisa forest looking for their daughters, but all their effort did not yield the desired result.
"Your execellency, we want to sieze this opportunity to thank you for the visit and identifying with us during this sorrowful moment, but the truth of the matter is that only 29 out of about 250 students have so far been rescued, and we want to emphasized that we are not happy with this development.
in as much as we continue praying for the safe return of our daughters, we are ppealing to government and our security operatives to intensify search for our missing innocent children". Haruna stated.
Also narrating his ordeal, Mallam Amos Chiroma who was amongst those combing the sambisa forest told our correspondent in Chibok that they have seen a lot of strange things in the sambisa/bush which he said he will not disclose for security reason, pointing out that Borno and indeed this country requires prayers from all and sundry.
Chiroma said, while they were in the bushes of sambisa with over 200 volunteers who only had cutlasses, bows and arrows and sticks, they came across different make -shift camps of the terrorists, adding that it is unfortunate that they had to withdraw back to Chibok, when they met a good Samaritan in sambisa that advised them to go back, because the point they were approaching was a death zone.
He said, if soldiers had joined them to the sambisa forest, they are optimistic that their missing children would have been rescued, or they would have been satisfied if they found dead bodies of their daughters.
It would be recalled that there was a misleading report from the military and the state government on the number of missing students rescued but the truth came out when the governor visited Chibok on Monday.
Governor Shettima while addressing parents of the abducted students sympathized with them over the unfortunate incident, and promised to deploy all resources towards the safe release of the abducted students.
He then called on all and sundry to continue to pray and fast for the rescue of the innocent students and restoration of peace, adding that since the incident took place, he had wanted to visit the community but due to security operations he could not do so before now.