The Madness Of Olisa Metuh And The Tragedy Of The Nigerian Nation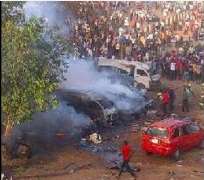 Now that the notorious White Widow, Samantha Lewthwaite, has been linked (whether confirmed or yet to be confirmed) to the dastardly bomb blast at Abuja, Nigerians should accept that the hen has finally come home to roost. Our worst nightmare is virtually at our doorstep. Terror has found a foothold in Nigeria. Teeth are still gnashing while tears are yet to dry. Nigeria is a nation at war, a nation in mourning. Peace has taken flight.
Nigerians are still continuing to express their shock and disgust at the unending cycle of violence that has now consumed the country. Losses are still being counted. The reality of a severe state of insecurity in which we all dwell stares blankly at us all in the face. However, of significance are four events which occurred just after this heinous crime to humanity. These are:
1. Flags are yet to be flown at half-mast as Nigeria does not perceive this particular bomb blast (one in a series of unending tragedies) as particularly significant, painful or sorrowful.
2. In the same perspective, President Goodluck Jonathan after the conceited mien and piety displayed at Iyanya in the course of his condolence visit, went on a whirlwind of politicking the following day. The bomb blast occurred on Monday 14th April whilst the President of the affected nation was on a felicitation visit to mark the centenary birthday of a traditional ruler (the Olubadan of Ibadan) on Tuesday 15th April 2014.
3. The whirlwind politicking also took President Jonathan to Kano to welcome a political whore who has been changing political parties as one would change a babariga to the PDP.
4. The PDP as a political party and especially one that has commandeered political power in Nigeria, reacted to the Iyanya tragedy by immediately releasing a statement. This statement was credited to its National Publicity Secretary, Chief Olisa Metuh.
5. Shortly after the vituperations from Olisa Metuh, news emerged that over 200 female students of a Government Girls Secondary School in Chibok, about 81 miles (130 kilometres) from Maiduguri were abducted overnight on same black Monday 14th April 2014.
It is instructive at this stage to thoroughly analyse the statement credited to Chief Olisa Mteuh and which has not been denied so far. The body of his statement can be divided into two parts. The first part appears to be meaningful and in conformity with the mood and prevailing atmosphere in the country. Olisa Metuh expressed the shock of his party caused by this latest orgy of senseless killings and stated that as a result of the grief which the party experienced, in solidarity with Nigerians, all official engagements were suspended. The second part, however, raises fundamental question about the intelligence, sensitivity and integrity of those in position of authority (or those able to influence authority, as the case may be) in Nigeria.
In the second stanza of his infamous statement, Olisa Metuh went to town to score political capital. He cast aside all pretences to civilised behaviour and decided to use the occasion of what amounted practically to a national tragedy to lampoon the opposition. Without being a member of any security outfit in the country or being maned to head one, and without waiting for the outcome of any security investigation, Olisa Metuh solidly laid the blame for the tragedy (and by extension all tragedies relating to Boko Haram that have occurred in the country) on the doorstep of the major opposition party, the APC (All Progressive Congress).
Since Olisa Metuh disrespected the feelings of Nigerians, therefore it is forlorn to attempt to show any respect to him in this piece. Since he showed no sensitivity to our pain and anguish, therefore whatever personal trauma or discomfort this essay may bring to him is of no consequence. That the second stanza of his statement is foolish is an understatement. It was a stupid, incorrigible and extremely hopeless statement. It came from a hare-brained idiot who should have no place in a gathering of decent and civilized beings. That Olisa Metuh has not apologised so far for his stinging venom is significant. That even his notorious party, the PDP, has kept mute ever since the verbal diarrhoea on the part of Olisa Metuh is even more revealing. For a party that has inculcated hopelessness into the national psyche, nothing better is expected. For an amalgamation of brainless idiots that usurped the sovereignty of 170 million 'mumuish' people, any vituperation is alright as the people are too dense to react. This is the sad reality in Nigeria of today.
Olisa Metuh is really not a bastard in the PDP. A little historical excursion would reveal that not too long ago, there was a bomb blast, incidentally at the same Abuja. I refer to the Independence Day Eagle Square bomb blast in October 2010. Hardly had the smoke from the ruins gone down than President Goodluck Jonathan announced to the whole world that MEND (Movement for the Emancipation of Niger Delta) was responsible for the attack. Reactions followed immediately with Henry Okah (MEND leader) being adamant that Goodluck Jonathan, in fact, instigated and masterminded the bomb attack. Of course, Nigerians are too lethargic to remember this. Thus, Olisa Metuh only followed in the footstep of his Master and in the ignoble tradition of his distasteful political party.
Again, in laying the responsibility for the attack at the footstep of his political opponent, Olisa Metuh indirectly tampered with the Pandora box. We all remember just too clearly that Goodluck Jonathan at some frustrating point in his presidency announced to whosoever cared to listen that Boko Haram is all too powerful. He informed us all that Boko Haram is so powerful and beyond the reach of the Nigerian state. A state that possesses stupendous arsenal of weapons of suppression and oppression. He solemnly affirmed that Boko Haram members have virtually infiltrated all organs of government (including his cabinet) and even the military. It is important to realise that Goodluck Jonathan could not name the members of Boko Haram in his cabinet or military to date, probably out of fear of what this dreaded organisation could do in retaliation.
By deduction, especially with the final submission of Olisa Metuh, since APC formed and therefore constitutes Boko Haram, therefore APC has infiltrated Goodluck Jonathan's government. Thus, it is APC that has been causing numerous bomb blasts in the country, killing and raping the innocent, bombing churches and generally implanted fear in the minds of the people. It is APC that has virtually paralysed the country and makes the country ungovernable for the PDP. Fellow Nigerians, this is the final piece of the puzzle.
So we can now take it as fact that Jonathan and the PDP have been at war with the APC all this while. Abubakar Shekau must be a card carrying member of the APC. The Peace and Reconciliation Committee (The Presidential Special Committee on dialogue and peaceful resolution) set up by the Federal Government) not too long ago, was actually a committee set up to pacify the APC. Nigerians were sold a ruse as it was aimed at settling an inter-party quarrel purely. Since the reign of terror in Nigeria has refused to abate despite the stupendous resources committed to it, APC as a party must be a super-monster, one beyond the ability of the PDP to conquer.
If all these submissions were to be true, then the most obvious solution is for the PDP as a party to submit the reign of governance to the APC. This seems to be the only path to peace in this scenario. You do not continue to fight an enemy you know you cannot defeat. However, if this postulation is patently ridiculous, infantile in thinking and preposterous in context, then there must be something seriously wrong with whoever brought up such insane notion. I dare say that available evidence does not seem to support this outlandish and insensitive conclusion of Olisa Metuh. Neither does it support the subsequent behaviour of the PDP as demonstrated by the gallivanting attitude of Goodluck Jonathan shortly after this bomb tragedy. It is thus logical to conclude that Olisa Metuh has been so numbed by the gargantuan irresponsibility of his grotesque political party to the extent that he has now adorned the cloak of madness in his unbridled arrogance. Olisa Metuh is a sick man who needs urgent psychiatric help.
It is apt to raise some posers for Mr Olisa Metuh to answer. The first is simply for him to clarify whether the APC masterminded the kidnapping of over 200 girls of the Government College, Chibok, Maiduguri? If this was the case, where could the APC be keeping them? Probably at the APC national headquarters in Abuja? What could APC want to do with all these girls? Probably to share them as wives and concubines - after all, being a Muslim party contemplating Muslim-Muslim ticket, its members are free to have at least four wives each, isn't it? These are all offshoot of the demonic logic of the thwarted brain called Olisa Metuh. Perhaps APC actually laid a curse of mis-governance and non-perforamnce on Goodluck Jonathan? It is only a mad leader that would be dancing and politicking whilst his citizens are being slaughtered like rats. Reuben Abati could write his hogwash to defend this unpardonable behaviour if he chooses.
Are we surprised at the uncouth and senseless statement that came out of the mouth of Olisa Metuh? For a man who sold his soul to the devil eons ago, Nigerians have not witnessed the worst of his behaviour. The Vice-Principal of British Nigeria Academy, Prince & Princess Estate, Abuja, Mr. Kola Pele, in 2011 had a fore taste of the unfathomable evil of the caricature called Olisa Metuh. As a National Vice-Chairman (South-East), Peoples Democratic Party, he invaded this school with his wife, aides and policemen and ferociously assaulted Mr Kola Pele. What was the offence of this teacher? Mr Pele ceased a mobile phone belonging to Olisa Metuh's son. (http://www.nigeriavillagesquare.com/forum/printthread.php?t=61523)
Unfortunately, this thug has now been licensed and imposed on Nigerians as the spokesman of a ruling party. Food for thought.
We cannot end this piece without paying a brief homage to the grandmaster, President Goodluck Ebele Jonathan. His very copy-able leadership is breeding rats and rodents in the country. His profound lack of leadership abilities is legendary. Not only this, his opportunistic fascination with political power has assumed a dangerous and highly insensitive proportion. His stupendous capacity for aiding and abetting all those attributes that will never make a nation progress deserves mention in the Guinness book of records. That this man's reign is synonymous with tragedy in our national history is an understatement. But as President Jonathan is wont to challenge his political opponents, may we then put a simple poser to him? Can Goodluck Jonathan please explain to the nation how much he has appropriated as security vote so far and how this sum has been spent. A saying states that those who live in glass houses should not throw stones. When the grandmaster of corruption accuses others of same offence, what comes to mind is that old adage that says that only a thief can catch a thief.
Moving on from the latest bloody message from Boko Haram is the reality that no part of the country called Nigeria today is immune from terrorist attack. We should not delude ourselves or ensconced ourselves in a false security zone. There is appalling security inertia in the country which makes it possible for every amateur terrorist to violate any part at will. Nigeria killed sleep the day it allowed the menace of Boko harm to fester unchecked.
Disclaimer:

"The views/contents expressed in this article are the sole responsibility of

Olusegun Fakoya, Dr

and do not necessarily reflect those of The Nigerian Voice. The Nigerian Voice will not be responsible or liable for any inaccurate or incorrect statements contained in this article."
Articles by Olusegun Fakoya, Dr