SENATE SUMMONS ARMY OVER JOS VIOLENCE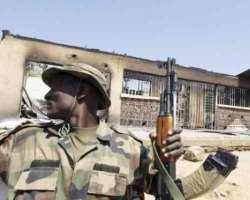 Senate summons Army over Jos violence
By Emmanuel Ogala
March 17, 2010 06:14AM
The Senate, on Tuesday, summoned the Army to explain its role in the latest violence in villages near the city of Jos.
Ibrahim Ida (PDP Katsina State), the chairman of the Senate Committee on Defence and Army, in a press conference after Tuesday's plenary explained that the Senate is not oblivious of the grumbles over the military's inactivity in the crisis.
'We have already invited them to appear before us to tell us what they are doing,' Mr. Ida said.
He, however, told reporters that the invitation given to the Army will perhaps be to commend its actions so far.
'It is natural that some people will criticise here and there,' he said. 'That should not becloud the objective. These people need to be commended. When the military are sent on assignment, they have rules of engagement and they abide by that rule.
'I think the bottom line is that we should really commend them for the job they are doing. I want to use this medium to commend the armed forces and the police for the very good job they are doing. We need to encourage them by understanding the terrain and the circumstances under which they operate,' he added.
Mum on Yar'Adua
When asked to comment on President Yar'Adua's health, Ayogu Eze (PDP Enugu state), the Senate's spokesperson who accompanied Mr. Ida to the press conference, could not clearly state current health status of the President.
Rather, Mr. Eze chose to discuss about the Acting President.
'The Acting President is conducting the affairs of the country admirably well,' he said. 'We are very pleased with the steps he has taken so far and we are standing with and behind him. That is why all communication coming from him is treated expeditiously.
'And we don't feel that the Acting President has performed below expectation. As an institution, we are very pleased with the acting president for now.'