Nokia X: Making Sway In The Android Market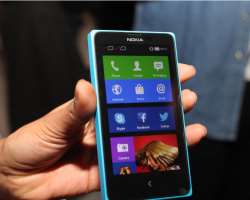 Impressively, Nokia Corporation first showed off its Android phone, Nokia X, late last month in Nigeria (March, 2014) and the first set of the phones have arrived Lagos and other parts of the country in a matter of weeks, even to the delight of millions of Nokia fans who have waited so long to have a grab of this much publicized latest product.
It is no longer news that lots of loyal customers/users of Nokia, representatives of telecom service providers, media executives and other relevant stakeholders experienced the Nokia X at its Nigeria launch event in Lagos. This huge presence as well as acceptance, simply shows that Nokia products still remain customers' first choice, due to its enduring pedigree of durability and efficiency.
Nokia X Review
One of the many great qualities this 4-inch smartphone offers is the matte polycarbonate removable back cover which makes the device to be free of dents or breakage giving it edge over other android phones that have no such protective components. Also, the unavailability of the Google Play Store on the Nokia X doesn't mean that Nokia X users can't install Android apps.
The phone is not thin but that does not add to its weight. It weighs quite like other 4-inch phones available in the market. There are three slots hidden underneath its back cover - two dual SIM slots and one microSD card slot that supports up to 32GB of card. It comes with an internal memory of 4GB.
The Nokia X runs a forked variant of Android. Unlike other Android phones from OEMs including Samsung, Sony, Micromax and LG, the Nokia X does not let you access Google's suite of services, including its Play Store and apps such as Gmail and Maps. Nokia has taken the open-source elements of Android and has merged them with elements of Windows Phone and Asha to offer users a new experience.
The unavailability of the Google Play Store on the Nokia X doesn't mean that Nokia X users can't install Android apps. There are three ways to access apps on the Nokia X. First is to have access to the key apps that come pre-loaded on the phone, including BBM, Vine, Twitter and Facebook. The second way to download apps is to go to the Nokia Store. And the third way is to access third-party app stores including 1Mobile Market, SlideME Market, Aptoide Appstore, which have a wide variety of apps that are available for Android phones. If an app is not available on the Nokia Store, users will be routed to third-party app stores.
Unlike the three capacitive buttons on a Windows Phone smartphone, the Nokia X has a single capacitive button for navigation - whether you want to go to the homescreen or go back to the previous screen. One would have assumed that the single-button approach could confuse, but that isn't the case. There is only one screen - which is actually a home for all the apps intalled on the phone. Swiping to the left or right from the homescreen will take you to Fastlane, a feature that Nokia had first showcased on the Asha 501 last year. Simply put, Fastlane is a stream of notifications and recent activity. It shows notifications from all the apps installed on the phone, however, you can personalise and uncheck the apps you don't want notifications from in Fastlane. Hopefully Nokia would also bring to its Lumia range of devices.
Moreover, the phone has a Windows Phone-like tiled homescreen, wherein you can change the size of the tiles - large or small. You can also create your folders on the homescreen and keep related apps in one folder by simply dragging them to the relevant folder.
The Nokia X comes with a 3 megapixel fixed focus camera which captures impressive and high resolution images even in soft and low-light conditions. The pictures captured are detailed and worth sharing on social networks. The phone has a quality display which produces decent colours and offers good viewing angles. The touch responsiveness is also great.
Nokia X is available in green, red, cyan, black and white; the phone distinctively has a quality speaker that produces loud and clear sound. This is indeed value for money.