African Media Leaders Must Chart A New Course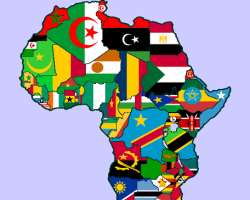 Myriads of social, economic and political problems have continued to take their toll on the African continent over the last century. And people are beginning to ask: what brought them about? What, in fact, is actually happening to Africa? How did we come to the stage we are now? And how can African media re-define their roles in order to facilitate the continent's self actualization in the face of current threats of terrorism and global uncertainty?
Difficult as it is, the hard fact is that unless leading figures in African media return to the basics and recognize the reasons why Africa has remained underdeveloped despite its magnificent history, it will be extremely difficult for political leaders to develop the continent, socially and economically, to take its rightful position in today's comity of nations.
We may just have to recollect that Africa is the second largest and second most populous continent in the world. Covering about 20.4% of Earth's total land mass, with a population of about 1.1 billion people as at 2013, it accounts for about 15% of the world's entire human population.
Contemporary Africa comprises of 54 sovereign states, nine territories and two de factoindependent states which have limited or no recognition. These include: Algeria, Angola, Benin, Botswana, Burkina Faso, Burundi, Cameroon, Central African Republic, Chad, Comoros, Corte d'Ivoire, Democratic Republic of the Congo, Djibouti, Egypt, Equatorial Guinea, Eritrea, Ethiopia, Gabon, Gambia, Ghana, Guinea and Guinea-Bissau. Others are Kenya, Lesotho, Liberia, Libya, Madagascar, Malawi, Mali, Mauritania, Mauritius, Morocco, Mozambique, Namibia, Niger, Nigeria, Republic of the Congo, Rwanda, Sao Tome & Principe, Senegal, Seychelles, Sierra Leone, Somalia, Somaliland, South Africa, South Sudan, Sudan, Swaziland, Tanzania, Togo, Tunisia, Uganda, Zambia and Zimbabwe.
Among them, Algeria is the largest by land mass and Nigeria by population. But because 50% of Africans are 19 years old or younger, Africa's population has been widely touted as the youngest among all the other continents. This fact in itself is one of the most important factors which should motivate leaders of the media in African countries to rediscover and redefine their roles in the African contemporary society, and thus enable the political class to move forward to consolidate the future of the African continent.
What this means is that the current leaders in African media should consistently harp on the need and desirability for African politicians to groom younger people for political offices. They should formulate deliberate policies for mentoring and encouraging African sons and daughters within the age brackets of 20 and 40 to take over the running of government in all of the African countries. If they can do this, they would have laid a very solid foundation for the future of the continent.
The prevalent situation where African political leaders get into power at a rather tender age, and insist on remaining in power for decades afterwards has not been, and will never be, in the interest of African stability or growth. It is no longer desirable for African societies to keep and fund a system of "re-circling leaderships", and media leaders throughout the length and breadth of the African continent must owe it as a duty to drum up this fact every day in their media until an impregnable awareness has been created and sustained in the polity of African nations. Nelson Mandela laid that foundation for Africa. He lost nothing as an individual. But he gained a lot by just accepting to become a one-term President of South Africa. Media leaders in Africa should take the bull by the horn and sack the days of "sit-tight" leaderships.
Another area media leaders must address is the social organisation of African nations. And it comes down to going back to basics. Many centuries ago, Africa was the first known continent on earth to be populated by humans, according to anthropologists. Human species were considered to have originated from the continent because during the middle of the last century, anthropologists discovered evidences of human occupation of the continent that was estimated to be 7 million years old. Central East Africa is widely believed to be the place from where humans originated.
Africans as far back as then had a way they organised their society before Europeans came and introduced 'democracy' into their lives. They farmed, and they reared cattle. According to credible research records, by 6000 BC, cattle had already become domesticated in North Africa. The domestication of cattle preceded agricultural activities on the continent. They worked iron, metal and steel and carved wonderful images on wood. Objects were carved in copper which possibly came from Egypt, Nubia and Ethiopia. The African civilization was one of the World's earliest and longest lasting and it continued to flourish until about 343 BC.
So, what happened to these crafts and artifacts, made in Africa by Africans? At what point did the political leaders of Africa declare them irrelevant to their national economies? Why have they refused to ask the youths in various African countries to create jobs for themselves that way by returning to the arts of our forefathers? Why are these arts not yielding foreign exchange for African nations today? These are the issues media moguls across the African continent must address and urgently too.
There will be a need to get back to basics if Africa must regain its lost glory as the seat of human wisdom.
Even from primary schools through secondary schools, colleges and universities, the foundation has to be laid all over again for these arts to be re-discovered and used to attract more foreign exchange for African countries. And leaders of African media have a crucial role here to create awareness.

Furthermore, leaders in the entire African media should also involve themselves in the current communal clashes which have taken great tolls in human lives and the economy across the African continent. They must map out clear solutions to these rampart clashes, a blueprint that will guide politicians to find a lasting solution to these socio-economic problems. The problems of communal clashes in African countries are very fundamental, and they call for an understanding of their origin by the leaders of media organisations in Africa. For instance, it is well known that Africa had as many as 10,000 different states at some point in its history. These nation-states still feature in many of the modern African countries, characterized by their different methods of administration. Media leaders must find a way of connecting the stakeholders and getting them to make a truce so that community members can spend more of their time making themselves more relevant to the needs and aspirations of their people.
But above all, leaders in the African media must involve themselves directly in the desire, and the struggle, to reclaim the psyche of the African people which was gravely damaged by years of slavery. The task is very challenging. In a very profound sense, the slave trade experience and its after-effects are the main reason African countries have remained dwarfed despite having one of the best credentials globally.
Slaveryhad long been practised in Africa and it took its toll on the psyche of Africans. It is, in fact, estimated that Arab slave traders sold about 18 million slaves from Africa through trans-Saharan and Indian Ocean routes between the 7th and 20th centuries and that between the 15th and 19th centuries, the Atlantic slave trade conveyed an estimated 7-12 million slaves to the New World.
The first thing we must realize is that Africans are still trapped in the throes of the slave trade but this time in a more subtle, more devastating way. African youths in particular are trapped in economic slavery. They mostly lack the money to live a normal life and contribute more meaningfully towards the desires and aspirations of their communities. Government needs to channel these youths' focus on some of the crafts Africans used to produce as a way of getting them more meaningfully engaged in the absence of white collar jobs.
African nations are also enslaved psychically. A situation where people in public offices are goaded by greed and self aggrandizement rather than service to their community is not a healthy development for any society. It is part of the reason the concept of fiefdom rivalry is still very much the problem of African leaders. Experience shows that some communities need a strong man to wield them together. That was the mistake of those who sponsored the so-called Arab Reawakening. They did not realize that there are such communities. If they have a weak ruler, war lords will spring up from practically every nook and cranny of the country and create problems that will stunt the natural growth of the people because when elephants fight, it is the grass that suffers.
The developed economies helped overthrow Arab leaders who were alleged to be autocratic. They included Saddam Hussein in Iraq, Ben Ali in Algeria, Hosni Mubarak in Egypt, Maummar Gaddafi in Libya, among others. These were nations that needed strong leaders to wield together. But the Western world never knew that much because of the democratic nature of their own societies. Now, it is beginning to dawn on them that since those days of regime changes, nothing shows that the new custodians are doing any better than those they ousted.
African media leaders must come together to chat a new course for the continent - a road map that will take into consideration the peculiar experiences and needs of African people. It is not just enough joining the band wagon of 'democratic nations' as dictated by the Western World. Africa must rediscover itself from the ashes of its history and carve a way forward for it to take its rightful place in the comity of nations.
Mr Asinugo is a London-based journalist and editor of Trumpet newspaper
Disclaimer:

"The views/contents expressed in this article are the sole responsibility of the author(s) and do not necessarily reflect those of The Nigerian Voice. The Nigerian Voice will not be responsible or liable for any inaccurate or incorrect statements contained in this article."
Articles by Emeka Asinugo