Rochas Has Sunk Again---APGA UK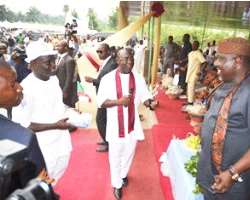 This is to inform all our members and the general public that there is an impostor on the internet using the name [email protected] send emails to people.
We don't know the person and people should ignore anything coming from the impostor. It came to my notice through the emails I received from concerned general public.
APGA UK is a legitimate chapter inaugurated by our National Chairman Chief Sir Victor Umeh and we were urged to promote the good image of our great party in the United Kingdom.
The Impostor is hereby warned to desist from such act or face the law. APGA UK is not a social club but a political party being guided by APGA constitution.
Owelle Onyeka Mbaso
APGA UK Chairman.
BREAKING NEWS !!!!!!!!!!!!!!!!!!!
Rochas Has Sunk Again:
Imo State APC chairman Prince Marshal Okafor has dumped Rochas for PDP.
The ship is always sinking.
Rochas media choir are you guys still convinced your pay master will Win in 2015?