Don't Blame FG For Your Failure-Lagos PDP Tells Governor Fashola
Challenges Him To Show His Actual Score Card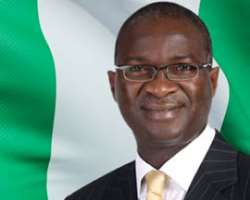 The lagos State Chapter of PDP has described the reaction of Governor Fashola to ministerial appointees in the State as a step taken in bad faith and as an attempt to divert attention away from his inadequacies.
The Governor was reported during his unpopular celebration of days in Office to have criticised the appointment of Mr. Aganga as a minister representing Lagos State and also that Senator Obanikoro has got merely a junior ministerial portfolio. The Governor particularly accussed the President of not giving enough support to the State. The party notes that it has become convenient for Governor Fashola to always attack PDP or Federal Government at such functions.
According to the Lagos PDP "Governor Fashola is bringing up this issue of indigeneship in the State Politics to divert attention away from his inadequacies in Government. Indeed a substantial part of the so-called celebration was used on raising the petty issue of indigeneship instead of the Governor to showcase his administration's actual scorecard in the last 2500 days.
Unfortunately for the Governor, he has only re echoed his hatred for non indigenes living in the State. We are not quick to forget the unprovoked humiliation of Ibos and Hausas on the Streets of Lagos. Ironically, the same Governor is silent on the Proprietary of Remi Tinubu representing Lagos State at the Senate. Remi Tinubu is not a Lagos indigene.
It is thus wise for Governor Fashola to jettisson this Unilateral and infamous pursuit of non-indigenes in the State"
Reacting further, the Lagos State PDP says it sees Governor Fashola as an ingrate to the PDP led Federal Government. "Governor Fashola is unfair to the Federal Government. He ought to acknowledge and appreciate Federal Government supports to the State. So many supports by the Federal Government are never celebrated by Governor Fashola.
The obvious supports are reluctantly celebrated. Such supports include: federal Government's Guaranteed International Loans; Approval of Refineries; construction of a Deep Sea Port; Approval of Eko Atlantic Project; Rehabilitation of Federal Government Roads and Medical facilities to mention a few.
Unfortunately, Governor Fashola has elected to betray a comradeship"
The Lagos State PDP has consequently counselled Governor Fashola to show his scorecard at such celebrations and also admit his inadequacies.
Signed:
TAOFIK GANI
Lagos PDP