Diezani Alison-Madueke: Goodluck Jonathan Vs the Nigerian people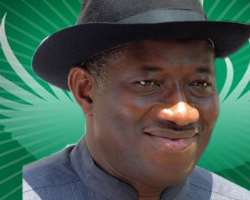 Understandably, glasses are clicking in Abuja in celebration of the latest rating of Nigeria as the largest economy in Africa. Whilst the euphoria and jubilation concerning this self-inflicted ego booster by a lacklustre government desperate to cling to any measure of achievement is still ongoing, it is apt to reflect on some of the fundamental issues that have held us back as a country and fatally impeded our march towards progress and development. While the ego trip on a dubious self-rating is still ongoing, we as a people have the urgent task of dissociating ourselves from the obsessive delusions of a non-performing government and chart a definite path of self-sustaining progress for ourselves. A major approach towards this is the dissection of a major social malaise and the exposure of perpetrators of corrupt practices in our midst.
It has been a prolonged season of anomie for Nigeria and apparently, our woes seem unending. Whilst Abuja continued to delude itself with achieving a milestone in overtaking South Africa as the largest economy, millions of youths remain out of jobs, our roads still retain the unenviable tag of death traps whilst our schools and hospitals are nothing to write home about. Sometimes, it is a puzzle as to the indices of achievement and success being employed by the charlatans at in measuring their impact or lack of it on the citizenry. Whilst the expensive melodrama currently going on in the name of National Conference in Abuja has focused deliberately or otherwise on religion and ways of suppressing press freedom, stories and reports of monumental corruption has continued to hold sway in the country. This is not to neglect the increasingly alarming and daring effrontery of the murderous Islamic group notoriously known as Boko Haram. This brutal group has continued to maim and kill, even to the extent of rattling the seat of power lately. It is still ironical that the activities of this group are yet to be checkmated despite the declaration of President Goodluck Jonathan sometimes in 2012 that he knew who the sponsors and supporters of Boko Haram are since they exist even in his cabinet. So much so for the order of the day in Nigeria.
We had hardly taken a breather on the shameless activities of the Speaker of the Lagos State House of Assembly who continues to expend state money like personal inheritance. We had hardly taken a moment's rest from the much publicised atrocities of ex-Minister of Aviation, Stella Odua, when the rumpus about the prolonged excesses, insensitivity and kleptomaniac atrocities of Dezani Alison-Madueke (Nigeria's Petroleum Minister) hits the air, once again. Diezani Alison Madueke is a parasite we have ignored and allowed to fester in our national life. Coupled with the likes of Bola Tinubu in Lagos State and Godswill Akpabio of Akwa Ibom state, in the life of a country, such a country would only continue to exist in sheer jeopardy and perpetual retrogression considering the magnitude of money that would have disappeared into private pockets.
Thus, it is with disgust I read (as usual) the statement credited to the presidential attack dog, Doyin Okupe, restating the determination and zeal of the Goodluck Jonathan's administration not to set up a parallel probe into the corruption allegations levied against the Petroleum Minister. This statement by itself is a contradiction of erstwhile habit of the Jonathan administration to rush into the defence of its sacred officials. A good one in recent memory is that of the infamous bullet-proof car scandal of Stella Odua, ex-Aviation Minister. Here, the Goodluck Jonathan's government wasted no time in setting up a parallel probe panel to the one instituted by the House of Representatives. Of course, then the government had a different explanation for setting up the panel. The consistent lack of consistency often exhibited by this rather chaotic government has not helped its battered image. Here is a government that has a stupendous tolerance, affinity and indifference to corruption. Though our notoriety for corruption is renowned, is it any surprise that tales and reports of corruption have assumed mega-gigantic proportion in the lifespan of the present administration? Thus the statement credited to Doyin Okupe is a mischievous manipulation, typical of Goodluck Jonathan's administration, to apply different strokes to different situations all in an effort to sanctimoniously protect its cronies and befuddle the Nigerian people.
In a country that has been rated one of the poorest in the world (never mind the cooked up statistics declaring our economy as the biggest in Africa), it is pertinent to take a second and closer look at the state of unbridled luxury being lived by our elected representatives. As a writer has suggested, it will be good for the system if we as a people can determine how many of our public office holders, especially governors, buy or charter aircrafts at the expense of tax payers. We need to know how many states in the federation have indulged in the excesses of purchasing custom-made bullet proof cars for political chieftains and public office holders. For a fact, it is on record that Lagos State purchased un-necessary bullet proof cars whose distribution extended to Bola Tinubu. Rotimi Amaechi bought a jet for 50 million USD while Godswill Akpabio of Akwa Ibom bought another one for about the same amount. Other states in the federation are neck-deep involved in this orgy of national waste. It is a fact of life in Nigeria today that no governor ever flies in commercial jets for both personal and official functions.
Corruption allegations amongst government officials are common occurrences since the inception of this administration. That both arms of the national assembly have assumed the role of watchdog over overzealous and recklessly corrupt government officials is now the norm. Whilst the House of Representatives sometimes coughs and sneezes in relation to this epidemic of sleaze, the Senate has been curiously moribund nowadays. The signature tune of present administration is to ignore the findings and outcomes of such investigative panel. Whilst the shameless policy of 'stand and bow' of accrediting Ministers by both houses of parliament in Nigeria has steadfastly ensured that criminals, cockroaches and goats succeed in holding sway over us. Is it then wrong for Goodluck Jonathan to treat sanctimonious probes of such negative characters by the national assembly with disdain? This administration has demonstrated over the years that it harbours a different agenda to the aspirations and yearnings of the Nigerian people. What should however be of concern to us is the system that aids and encourages and recycles corrupt politicians as our cabinet Ministers and important government officials.
I have often restated that Goodluck Jonathan is a misfortune in our national history that cannot be expected to be our 'Messiah' (apologies to Olusegun Obasanjo). The Jonathan-mania which followed his infamous 'selection' has turned full circle to become the Jonathan-jeopardy, our worst national nightmare. We have, unfortunately, now reached the cross-road in our collective foolishness. We have stupidly and sweetly imposed a fool on ourselves and yet continued to allow the reign of ignominy without challenge. Whilst other nations are crying out for truth and justice, we have solidly kept mute, condescending to galloping nightmare, incompetency and unparalleled, crass and stupendous mismanagement. It has never been this bad for Nigeria.
In the class of the untouchable ministers belong the likes of Diezani Alison-Madueke, Ngozi Okonji- Iweala and the now sacked aviation minister, Stella Odua. Ngozi Oknji-Iweala perhaps needs no introduction as we are all reaping the fruits of her mis-coordination of our national economy. Stella Odua, on her part, succumbed to the moral force, though not without a fight back from the presidency. I deliberately left out Patience Jonathan, Federal Minister unofficial and without portfolio, yet the singular power behind the throne. Perhaps the only one woman who decides our collective fate by her actions and inactions. Patience Jonathan would of course preferred to be addressed as 'Mama Peace'.
Born 6 December 1960, Diezani Alison Madueke rose rapidly on the life scale to become a Minister of the Federal Republic on the 26 July 2007 as the Minister for Transport. This was on the background of allegations that she falsely backdated her graduation year from Howard University in order to gain employment with Shell. As Transport Minister, she had a chequered predecessor in the like of Anthony Anenih. Right from the onset, controversies began to trail Diezani like a stubborn ogbanje. In June 2008, Madueke claimed to have spent the sum of 30.9 billion Naira as payment to contractors (between 26 and 31 December 2007) who rehabilitated the death trap called Sagamu-Benin Expressway. This became a subject matter of Senate probe. To date, this road like many others in Nigeria, remains in a sorry state. Overall, between Madueke and Anenih, over 234 billion Naira earmarked for road construction remain unaccounted for. Also, in October 2009, the Nigerian Senate indicted Diezani Alison-Madueke and recommended prosecution for the alleged transfer of 1.2 billion naira into the private account of a toll company without due process and in breach of concession agreement.
For her exemplary zeal at corrupt practices even within such a short span as Minister, Goodluck Jonathan compensated Alison-Madueke with the Mines & Steel Development ministerial post. This is perhaps allegorical as it takes the substitution of an 'e' in steel with 'a' to get 'Steal'. The absurdity continued even with further compensation as Petroleum Minister. The profane sick tales of sleaze continued unchecked in this ministry, including a report by Next newspaper exposing her underarm dealings with a US-based company to lift Nigerian sweet crude oil.
On the 1st of February 2012, Premium Times published a KPMG report titled: 20 Nigerians EFCC should investigate (http://www.premiumtimesng.com/news/3636-kpmg-report-20-nigeriana-efcc-should-interrogate.html). This was a forensic detail of the 'nauseating and shocking systemic abuses in all aspects of our oil and gas industry.' This report had been in government hand but kept in the cooler as usual. I crave due indulgence to liberally quote the Premium Times:
'From unauthorized violation of OPEC oil quota for Nigeria, to outright falsification of the exchange rates used for defraying government oil revenue, to barefaced exploitation of the subsidy regime, the report is clear and unequivocal in its observations and conclusions. It not only highlighted how rotten the industry is but it also clearly indicted officials and departments found to be involved in monumental corruption
Although names were not mentioned in the report, a detailed analysis of the document by Premium Times has thrown up at least 20 government officials and businesspersons who have questions to answer as far as the audit is concerned'
Of course, prominent amongst those to have been interrogated was Diezani Alison-Madueke under whose watch corruption and malfeasance in the oil industry continued to flourish. The Nuhu Ribadu committee also found it difficult to exonerate Diezani Alison-Madueke as it reported that about 28 billion Naira from oil revenue and royalty is still missing from NNPC account. We should also not forget the eventual waterloo of Sanusi Lamido Sanusi, the reported missing billions from NNPC.
And now Diezani Alison-Madueke is under probe by the House of Representatives accused of chartering aircraft at the expense of tax payers. She has been accused of spending about N10billion (60 million USD) over a two-year period for hiring of private jets, both for her official and private use. The House said the cost of hiring the plane was about 600,000 Euros per trip. As usual, she has strenuously declared her innocence. The NNPC has also come out in fiery defence of its embattled Minister.
This is the corrupt world of Diezani Alison-Madueke, a lady who like most other special ladies in the life of Goodluck Jonathan, wallows in the crypt of greed, wanton insensitivity and callousness. These are the precise attributes that endear her to Jonathan. It is high time Nigerians knew that ministers are appointed at the mercy of President Goodluck Jonathan to serve his interest only. No national interest comes into the equation at any stage. They are not appointed to serve the Nigerian masses as this attribute does not feature in the concept of governance in Nigeria. Once again, the case of Diezani Alison-Madueke is another opportunity for Jonathan to flex his presidential might and maintain his usual stoic indifference to the Nigerian populace. It is a state of might versus right.
Despite the determination of that contaminated organisation called NNPC to dance on the political mistune of unfettered loyalty to a reigning Minister, certain pertinent questions beg for prudent responses.
We as Nigerians need to ask ourselves if indeed any Minister, or any Nigerian for that matter, has the right or temerity in these austere times to:
1. Lavishly expend state money on personal aggrandisement and luxury?
2. Live in stupendous luxury simply because of their privileged position at the expense of the suffering masses?
The other pertinent questions are:
1. Is it right for the National assembly to assume an overseer function in our mortally corrupt environment when decisions emanating from these chambers are most times ignored and disrespected by the executive arm?
2. Again, is it morally right for the National Assembly (which by itself has the tag of corruption perpetually on its neck by its commandeering of one quarter of our national resources for a less than one percent of the population) to be the one pursuing corrupt government officials?
3. The National Assembly took up this role when bodies bodies assigned with this task are shying away from investigating or prosecuting certain officials. We have the Economic and Financial Crimes Commission (EFCC), Independent and Corrupt Practices Commission (ICPC), and Code of Conduct Bureau (CCB). These bodies are curiously silent when certain Nigerians are in the storm of corruption allegations. Is it then time to re-evaluate their existence and relevance and possibly proscribe?
These and many other questions beg for urgent answers.
Gooduck Jonathan has always postured against the Nigerian people. He has demonstrated consistent defiance and antagonism to the wishes and desires of Nigerians. He has never hidden his disdain for our socio-economic emancipation. Examples abound but few will suffice. We are all living witnesses to the sudden, abrupt and crushing fuel subsidy removal on a new year's day 2012. The resistance of this administration to the removal of Stella Odua despite demonstrated incompetency and unparalleled sleaze is still fresh in our memories. Even the current jamboree in Abuja is a betrayal and mockery of our agitation and struggle for a truly sovereign national conference.
Students of political history appreciate that he buck rests on the table of political authority. This is a maxim the man from Otuoke is incapable of assimilating. His sustained penchant for blaming virtually all except himself is xenophobic and anti-progressive. His intolerance of criticism is both amusing and sad. He has blamed past leaders for the evils bedevilling the Nigerian nation. He has blamed our economic woes on certain leaders without the courage to mention names. Of recent, he has even blamed Northern governors for being responsible for the Boko Haram debacle. In all these, he failed to exhibit that onerous demand of leadership - the need to make life better for the citizens. He is sadly incapable of understanding the urgent need to wake up to neglected responsibilities and to stop throwing the blame game.
The scourge of corruption is like a pestilence in our land. Born out of greed, it has eaten deep into every fabric of our society. From the security man manning the gate of a primary school to the motor park tout and highly placed government officials. Probably the only Nigerian free of this illness is the unborn child. The irony is that we as a people really do not need corruption to thrive. We are so blessed by God and nature that all it takes is for us to exploit those positive attributes that hold us together
Every reasonable human being aspires to make his society better than he met it. Occupying a position of power and responsibility makes this more of an ardent task. Here, Goodluck Jonathan has failed miserably. His sins against the Nigerian people are mounting by the day. Yet our President is blissfully ignorant of the trauma his regime has imposed on Nigerians. He is busy confusing church speeches with policy announcements. His government is reeling from policy somersaults to policy inconsistencies, confusion and hopelessness. The enormity of his sins cannot be washed even by his recent visit to the Pope, no matter how many times he and his madam decided to kiss the Pope's hand. Whilst the confusion in Abuja continues to roll on, it behoves of us to take our collective destiny in our hands. God will not come down from above solely to rescue Nigeria.
Why should God descend to the physical plane only for Nigeria?
Dr Olusegun Fakoya
Disclaimer:

"The views/contents expressed in this article are the sole responsibility of the author(s) and do not necessarily reflect those of The Nigerian Voice. The Nigerian Voice will not be responsible or liable for any inaccurate or incorrect statements contained in this article."
Articles by Olusegun Fakoya, Dr