Akwa Ibom Must Produce The Next President Or Else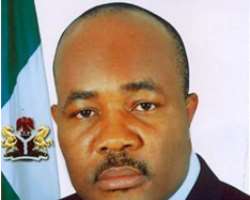 Akwa Ibom State is made up of about 5 million people mainly Ibibio, Annang, Oron, Ibeno, and Eket. Uyo their major City is 95km to Calabar the Administrative headquarters of Nigeria before Lagos. These are very decent people known in Lagos for neatness, pride and hard work. Once you taste the Ibibio Afang or Efik Edikang-Ikong soup especially with pounded yam, you are sold. If you eat it as a bachelor, forget your worries, you just got yourself the most beautiful lady.
How Akwa Ibom becomes the leading oil producing state is secondary, what they could have done with it as others did is the point here. However, culture of greed and insatiable pursue of power by any means necessary have not gripped their conscience like some ethnic groups destroying their so called mother and fatherland. It is not the same as portraying them as holy saints that see no evil or do no evil. We have those in the best of us wherever you are.
If Akwa Ibom people have anything to learn or were less than polite, friendly and easy to get along with; they will be agitating for their own Country or might have raised militants to take over their Country. In case you are wondering why power grab is what our Country has become. Everybody wants power for no other reason than to be in charge of the treasury and loot it dry. It used to be the best way to power and gain treasury was by population, inflated or not.
Since Akwa Ibom State is now the highest oil producing area, it is only fair that they should be in the fore front agitating for the highest office in the land. There is no doubt that Ebele Azikiwe Jonathan got a clean shot at the presidency because he comes from oil producing area where most of the income is generated for the Country. Moreover, their means of primary livelihood as fishermen were destroyed and turned into environmental disaster. Well, look at precedent.
Watch the acts of Army Forces officers needed to lead the armed robbers to power. Contracts and payments to their cronies were taking too long in the bureaucratic process. So, officers as masked saviors took over ordering the Governor of Central Bank to deliver foreign cash from the vault with immediate effect. Once military took charge, they occupied most of the avenues for generating incomes according to power of officers, regardless of where the oil comes from.
Ijaw elders armed and instigated the youths until they lost control while the rest of the Country and international countries sympathized with them. It was these same international countries in search of black gold, whose corporations destroyed their environment. Compensation apart from few schools and clinics were little or token local high level employees for public relations.
Since arms and ammunitions were advertised worldwide in the open markets; it took armed robbery to take power and there were open guerrilla training camps just as there was Army training in Royal Military Academy Sandhurst England or American Military academies; youths learned fast. America and British require home governments' approval before the students are accepted but Guerrilla, Christian and Muslim extremist fundamental camps take all comers.
Therefore, it was easy for those contemplating the takeover of governments to go to Sandhurst to earn their stripes only to become the leader of their countries someday. Needless to say, our leaderships were also taken over by Christian and Muslim radicals. Some attended guerilla training camps in Afghanistan, Libya and Pakistan. Many of them fighting for opposite causes or political parties even met one another at these camps.
We do not know at this moment if the people of Akwa Ibom are thinking of shedding amicable culture and hard work for which they were known and are now planning to send their youths to some of these guerrilla camps or military academies. In fairness to their leaders, we have not heard complain of marginalization or any grievances greater than the rest of Nigerians or to the point of arming themselves against their Country. But any state producing oil belongs to Ijaw.
We must enlighten those that do not understand why any state governor in a country would send their youths to Sanhurst or guerrilla training camps because they want to take over the national government. Natural resources like oil, gold, diamond and uranium are very important to the world but not as much in their raw state to Africans. The reason is our hedonist leaders create civil wars over dwindling raw material from the ground but careless over brain abilities.
Our brains are what enable us to think about how to turn these raw materials into the finished products that can be valuable to the world. You would think that since Africa was blessed with so much rich natural resources, after many centuries of old civilization, we would have used our brains to develop most of them. Laziness and easy income take over our spirits many times. We do not philosophies, write, or adapt education to what our ancient scientists and artists left us.
Indeed, we wait for people outside our Continent to rediscover our legacy so that they can re-interpret and sell it back to us. But when it is civil wars, chicanery to dispossess one another, take one another as slaves, smuggle and kidnap babies and women for foreigners to make easy money and live temporarily in opulence we did not create, some of us are not found wanting.
Gods knows only a few of us engage in these unsightly activities. But the sins of a few infect and influence so many and corrupt our youths following their leaders. Africans love power too much as individuals, breaking spirit of team work. Without teams, it's hard to nurture cities and states.
The people of Akwa Ibom are not desperadoes waiting in the dark to hijack their own Country. Their hospitality to strangers at home and their respect to their outside hosts in communities they reside are the examples other Nigerians must emulate. They travel far and wide in Africa and foreign countries, yet they have not made notorious name for themselves in large mass.
Disclaimer:

"The views/contents expressed in this article are the sole responsibility of the author(s) and do not necessarily reflect those of The Nigerian Voice. The Nigerian Voice will not be responsible or liable for any inaccurate or incorrect statements contained in this article."
Articles by Farouk Martins Aresa