The Hired Army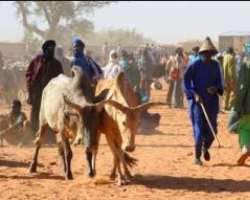 It's a surprise that the so called Nigerian army in Ada Barracks Takum Taraba State has been hired by Fulani haidsmen to fight against the Tiv people, there by killing, destroying there properties & displacing them from there ancestral homes. The Fulanis do not have any historical origin nor lineage from these villages they are attacking. They keep on attacking these innocent Tiv natives for no reason.
By the investigations, there has not been any signal yet from any authority for the army to take any action over the unrest in these areas. It's clear that, the commandant in this barrack is clearly aware of these evil acts.
The question's that, is this how the Nigerian army so called are supposed to operates? And what is the government of Nigeria doing about this?
Disclaimer:

"The views/contents expressed in this article are the sole responsibility of the author(s) and do not necessarily reflect those of The Nigerian Voice. The Nigerian Voice will not be responsible or liable for any inaccurate or incorrect statements contained in this article."