30 Female Borno Students For Sudanese Medical College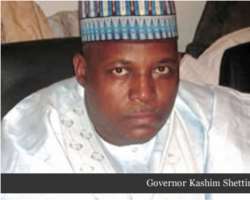 BEVERLY HILLS, CA, April 01, (THEWILL) - Thirty female students of Borno State origin have been offered scholarship to pursue a five-year medical degree programme at the El Razi Medical College, Khartoum, the Sudanese capital.
The state governor, Alhaji Kashim Shettima, made the offer on Tuesday, promising that his Administration will foot the bills of the students for a five-year MBBS degree programme at the college.
The governor, who disclosed this during a reception ceremony for the lucky students at the Government House, Maiduguri, said his government had set aside $1,140,000 for the programme.
"Government will provide comprehensive sponsorship for all the students.
This include the cost of procuring visa, air ticket, tuition, study allowance, up keep allowance among others," he said.
Shettima said the aim of the sponsorship was to tackle the problem of shortage of medical doctors in the state.
"When we came to office in 2011, we met only 38 doctors in government employment all over the state .
So we raised the figure to 108 doctors.
But the number was still inadequate for the need of the state, " he said.
He disclosed hat his government decided to sponsor the students to provide a lasting solutions to this problem.
Disclosing that the students were selected from all the 27 Local Government Areas of the state for even spread, he said : "We are planning for the future because Borno will overcome its current security challenges soon.
We believe that Borno will emerge stronger from its current challenges.
"