Islamic Jihadists To Nigerian Muslims: Use 'The Sword And The Spear'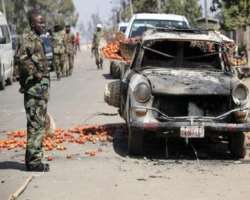 San Francisco March 16, (THEWILL) – An Islamic militant group in an online video message has called on Muslims in Nigeria to use 'the sword and the spear' and rise up against Christians in the country adding that 'nothing will stop them (Christians) but the sword and the spear.'
A United States group that monitors Islamic fundamentalist websites, SITE Intelligence Group released a translation of the video posted on the Ansar-al-Mujahideen website, a militant group with ties to the Yemeni Al-Quaeda.
The video is coming just after the recent religious violence in three villages in Jos, Plateau State which led to the slaughter of more than 400 persons.
The narrator in the 10-minute video, which showed television clips of graphic images of those killed at previous clashes to incite viewing Muslim audience warned that 'dialogues and protests would not stop the advancement of the enemies and their massacres.'
The same group some weeks ago called on Nigerian Muslims to take up arms against Christians just before the January disturbance in Jos, Plateau State.
Continuing, the narrator called Nigerian ill president, Umaru Yar'Adua, who is a northern Muslim, a 'tyrant' for allowing security operatives kill the leader of the Boko Haram sect (meaning western education is sinful) last year.
Religious tension in northern Nigeria is high with the Nigerian mainly northern dominated military accused of complicity in the Jos crisis.
Northern Nigeria is predominantly Muslim while the Southern states are predominantly Christians.
Nigeria is currently facing challenges on all fronts including a power struggle among the political class over President Yar'Adua's fate and agitations in the Niger Delta region for control of the country's vast oil reserve.
|
Article source