Partition Nigeria Into Two States – Libya's Muammar Gaddafi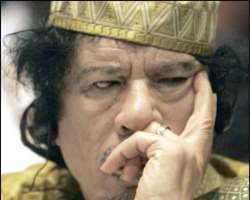 PHOTO: LIBYAN PRESIDENT, MUMMAR GADDAFI.
San Francisco March 16, (THEWILL) – Libyan President, Mummar Gaddafi known for his usually outburst and outspokenness has advised that Nigeria should be split into two nations along religious lines, that is Christian and Muslims, with Lagos as capital of the new southern Christian nation and Abuja, the capital of the northern Muslim nation.
The BBC said Colonel Gaddafi made the comments in Tripoli, Libya during a meeting with a group of students from African universities, adding that dividing Nigeria into two would stop the senseless religious killings, which he described as 'painful and terrible.'
The longest serving African leader praised the example of India and Pakistan in 1947 saying the "partition saved the lives of millions of Hindus and Muslims and would stop the bloodshed and burning of places of worship," he said according to Libyan news agency, Jana.
He blamed the recent violence in Jos, Plateau State as a product of the historic federal state imposed on Nigeria by the British colonialists and wants former president Olusegun Obasanjo to lead the way on the partitioning.
This is not Gaddafi's first erratic and undiplomatic remark, last year he called for Switzerland to be abolished and its land split amongst France, Germany and Italy when the Swiss and Libyan governments were engaged in a diplomatic row.
|
Article source