Airtel Commissions Showroom In Nassarawa State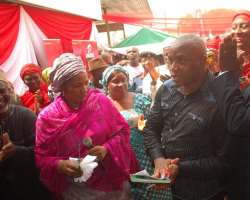 Lagos, Nigeria; March 31, 2014: Leading telecommunications services provider, Airtel Nigeria, has commissioned an ultra-modern showroom in Lafia, Nassarawa State, in line with its renewed drive to deliver exceptional customer service to telecoms consumers across the country and also expand its retail footprints.
The ultra-modern showroom, usually referred to as Airtel Express Shop (AES), was commissioned recently by the wife of Nassarawa State Governor, Hajia Salamatu Umaru Tanko Al-Makura with support from the Emir of Lafia, Alhaji Dr. Isa Mustapha Agwai represented by Alhaji Magaji Aliyu Agwai, the Dan-Isa of Lafia; the wife of the Deputy Governor of Nassarawa State, Asamau Damishi Luka; Local Government Area (LGA) Chairman, Alhaji Alhassan Sheikh Abdullahi and Hausa Nollywood actor, Magaji Mijinyawa, among others.
With the Airtel Express Shop open for business, residents as well as visitors to the capital city who are on the network have been availed the opportunity to access Airtel's all-inclusive service experience that ranges from unique offerings in data, voice, bill payment, query resolution to general enquiries.
Speaking at the commissioning, Airtel Nigeria's Regional Operations Director, North, Olufemi Oyewole, said the new service point was in sync with the company's goal of taking its customer service delivery to the door steps of customers.
He noted that the Express Shop would address the quest for better service experience by the people of the state just as he stated that the development is yet another reason more Nigerians especially the youth should count on the value the network brings to their dreams.
His words, 'This Express Shop which is open to undertake customer service delivery is a reassuring testament of Airtel Nigeria's commitment to empower Nassarawa state and its residents to realise their full potentials and fulfill their dreams.
'We have followed the Government's efforts towards creating for this state a robust economy, and we are complementing this drive through our AES, which is a dedicated one stop outlet designed to bring our innovative and value offerings closer to the people.'
Also speaking at the event, wife of the Nassarawa State governor, Hajia Salamatu Umaru Tanko Al-Makura while declaring open the AES, thanked the operator for demonstrating commitment to serving the people of the state.
'This is a moment for us to truly witness the commitment, concern and care of a true people-oriented stakeholder who has demonstrated its ability to add value, enrich lives and uplift the standard of people in Nigeria, not only in terms of quality telecommunication services, but also in the areas of rewarding subscribers for patronage and loyalty,' she said.
Meanwhile, Airtel Channel Partner and CEO of Mainasara Communications Limited, managing owners of the Express Shop, Mr. Boniface Chinedu Okwu has described the new customer service point as a boost for best telecoms experience for the people of the state.
'We are very happy, it's a dream come true. The people are happy. They now have a place to come to for enquiries about Airtel network and its bouquet of innovative offerings and products,' he said.
The new Airtel Express Shop will serve as a service delivery centre undertaking such functions as sales point for Airtel products, service subscriptions, confirmation or verification of messages from Airtel Nigeria and SIM swap in the event of loss of or damage to SIM cards.
Other dignitaries at the event include Airtel's Zonal Business Manager, Lynda Umeh; MD, Al-Miftal Communications Ltd, Alh. Jibril Agabi; sub-channel partners, Sylvester Ugwu, Onyia Emmanuel, Francis Eze, Ugwoge Chinenye, Ede Thompson and Igwe Godwin.
About Bharti Airtel Limited
Bharti Airtel Limited is a leading global telecommunications company with operations in 20 countries across Asia and Africa. With headquartered in New Delhi, India, the company ranks amongst the top 4 mobile service providers globally in terms of subscribers. In India, the company's product offerings include 2G, 3G and 4G wireless services, mobile commerce, fixed line services, high speed DSL broadband, IPTV, DTH, enterprise services including national & international long distance services to carriers. In the rest of the geographies, it offers 2G, 3G wireless services and mobile commerce. Bharti Airtel had over 287 million customers across its operations at the end of December 2013. To know more please visit, www.airtel.com