Corruption In Nigeria: A Factor For Revolution!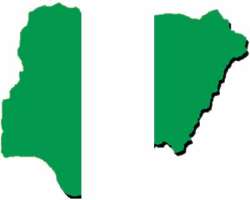 Corruption in Nigeria has climbed to a level where we even pray to God to come down and put an end to this social menace because we are tired! But as a student of political science, I have not been taught that there is any country in the world which reduced corruption to the bearest minimum had God coming down to reduce the corruption for them, not even our own brothers and sisters in Ghana.
Corruption has eaten deep into the fabrics of our economy and our bone marrows almost beyond repairs. In this sense, it is not only the issue of corrupt leaders but also the issue of corrupt followers. However, it's a phenomenon that is prevalent with the leadership of Nigeria in every facet of life, ranging from presidency, national assembly, judiciary, police, mosque, church, school, market, community, family even to the foetus in the womb as it wants to eat all the food alone and leave the mother hungry . In all spheres of leadership, our leaders easily misappropriate, mismanage and steal monies our religious places are not exceptions.
The Nigeria's internal contradiction which has manifested in form of corruption has further deepened the economic dependence, insecurity and underdevelopment of the country as countries like India, China, Indonesia, Malaysia etc that we were colonised together have successfully come out of the woods and they are emerging economies today while Nigeria is still in the woods battling with corruption, religious bigotry and ethnicity. Obasanjo described this as 'a cancer that had debilitated the Nigerian state and frustrated development efforts, despite the country's huge oil wealth' (Alabi, 2009:329). I know my readers will be surprised to hear Obasanjo speaking against corruption or better still, for Obasanjo identifying corruption as the cancer of frustration against Nigeria's development. If I'm not mistaken, I once read and heard without dispute from any angle or whatsoever, that Obasanjo was having #20,000 in his account before he became president in 1999 but Orji Kalu has always told us that Obasanjo is over $20m richer today. But, I'm not carried away with all this melodrama; it's simply a case of kettle calling the pot black!
Could an ex-president who was probably corrupt but identified corruption as our problem be better than a president who sees nothing at all wrong with corruption or felt that corruption is blown out of proportion? On the contrary, corruption is not new in Nigeria but as I was taught, it became something with almost a legal back up during the era of the evil genius, IBB. 'To have SAP in Nigeria will among other problems create an adjustment programme without a human face with the high potential for serious social problems. One of this is the rise of new millionaires, the collapse of the middle class and the reign of poverty that pervades the landamidst this is staggering corruption. SAP has encouraged corruption terribly' (Osifo-Whisky cited in Alabi, (2009:247).
In Nigeria for example, cases of corruption have always ended up as a devastating melodrama because the persons pursuing the culprits will also end up being indicted in the corruption investigation process. Though, the validity and credibility of these indictments are never known as there are many cover up. The case of power probe headed by Ndudu Elemelu, the news which many Nigerians have described as shocking and alarming is the indictment of Lawan Farouk in the fuel subsidy probe, Dimeji Bankole case of corruption upon which he was recently discharged and acquitted by our Nigerian court but it's not new to Nigerians. The corruption case upon which James Ibori was discharged and acquitted in Nigeria, the same case he is cooling off in London prison so it's not new Nigerian judiciary!
Moreover, the corrupt ones do not end up in prison in Nigeria as they are more powerful than the society itself otherwise the likes of Joshua Dariye (#700m), Gabriel Igbinedion (#19b), Fabian Osuji, Vincent Ogbulafor, Stella Oduah (#255m), jolly Nyame (#2.4b), Alhaji Aminu Turaki (#33b) the crying ex-gov, IBB ($12.2b) oil windfall, Iyabo Obasanjo (#300m) , Bode George and Dabo (#100b) later acquitted, Boni Haruna (#100m), James Ibori (#44b) later acquitted on Nigerian soil but not in London, DSP Alamieyeseigha (#6b) who miraculously turned into woman in UK to facilitate his escape, Ikuforiji, just to mention but a few, these people are not supposed to be free in our society today but I can say these people are not only free but they are in corridor of power as power brokers.
Nigeria lost 8 trillion naira to corruption between 1999-2012. This is alarming, and more of our money is disappearing everyday without any tangible pro-active measure to curb it. Yesterday, it was Stella Oduah. Today, it is Alison Madueke. Jonathan, please see something, say something and do something because you are the president! It is rather unfortunate. Corruption is truly the cankerworm that has eaten the pores of our bodies beyond repairs.
More so, a fact in all these melodrama is that, in Nigeria most of the anti-graft institutions and commissions are further instruments of promoting corruption as most times they are actually machineries in the hands of some political class to fight those who are against them and they never go after the corrupt ones who are still in the good book of the power that be. The fact also remains that, all our political leaders are corrupt probably with the exception of less than 1% but the ones they are using EFCC to harass are those who are out of favour with the power that be or those they are trying to stop from contesting for another term or higher office, and this is evident in the cases of Peter Odili, Sylva Timipre, Rotimi Amechi and others. It is always a selective justice.
ENOUGH IS ENOUGH, it's high time the civil society; especially the youths rose up to this occasion and put an end to this madness called corruption in our society, Nigeria. If the leaders fail to realise do the right thing, then, it is time we occupied Nigeria by 'peaceful civil disobedience' like the 'satyagraha' recommended by Mahatma Gandhi.
What the authority could do to curtail corruption and I pray the people in authority should do them. But it is difficult to do because is like using your own hands to sign your waterloo when you are enjoying the loots of corruption but it will be easy to do when they make up their minds to do the right thing.
· The authority should have the political will and courage to do the right thing.
· The executive and legislature should work towards the independence of the judiciary.
· There should be capital punishment, not necessarily death but a punishment that ranges from 10-50 yrs imprisonment in commensuration with the amount of money stolen.
· Let the authority consciously promote press freedom.
· The power of appointment of INEC chairman should be taken away from Mr. President and be given to members of the INEC and its fund should also be drawn from a consolidated account.
· Let's organise and conduct free and fair elections. We can do this if all hands are on desk and the political will is there especially when power of incumbency decides to be right.
· The appointment of EFCC and ICPC chairmen should not be done by the president. This power should be given to NJC, NBA, NUJ and the Nigerian force.
· The civil society should be constitutionally empowered to monitor award and execution of contracts by all tiers of government because it is supposed to be a 'government of the people, by the people and for the people.'
· No government official should travel out with more that #3m except with the approval of EFCC.
· Proper value-orientation programme should be developed from elementary to tertiary schools. Today in Nigeria, parents encourage their wards to steal public money, so proper value orientation can help us all.

Osobu Suuru Alexander
The author of the book titled:

'Tomorrow Will Never Cease'
08033819701 or [email protected]

Disclaimer:

"The views/contents expressed in this article are the sole responsibility of the author(s) and do not necessarily reflect those of The Nigerian Voice. The Nigerian Voice will not be responsible or liable for any inaccurate or incorrect statements contained in this article."