A tribute to a spiritual titan!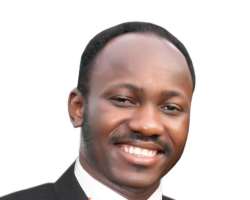 So it happened ,about four decades and a few years ago,precisely on the 24th of March , in the ancient but unassuming city of Benin, in Edo State, Nigeria. A witch doctor committed a treasonable felony, he and his ilk were sent on exile. That same night, a child was born, and there was so soothsayer to foretell his futurebut few days after he was born. Some men travelled from Warri to Benin (the place of his birth), and requested to see him. They said they had a message from God. His parents desired to know what the message was. The men said God told them that a man had been born who would be a prophet unto God and minister in His presence. His parents refused to listen further because they were not Christians. That child is none other than,Apostle Johnson Suleman.
Johnson Suleman is not just an apostle,but also a prophetic voice,a pastor, thinker, educationist, administrator, philanthropist, a prolific writer and a renowned international author who has become a household name around the globe. The Oracle as he is fondly called,is known for his apostolic and prophetic flow, he graces this age with a new dimension of revelatory knowledge in scripture, miracles and deep prophecies. His ministry, the Omega Fire Ministries which has become a global phenomenon with over 2, 000 vibrant churches in over 43 Nations of the world in just 10years, has also served as major breakthrough and miracle center for the church, governance, world affairs, corporate business and the entertainment industry.
Apostle Suleman's life bears a marvelous measure of the fruit of goodness, gentle kindness and deep compassion harvested in loving service to every man or woman he comes across. So many times I've heard him say, 'We can't let the hungry stay hungry, the homeless, homeless, or those without clothing, naked. We have to do everything we can together to help those people.'
Nothing is better calculated to restore health and vitality to the church or to lead its members into maturity in Christ than a recovery of true, biblical, contemporary preaching as well as earth-shaking prophesies and proofs . . .the task of preaching today is extremely exerting, as men of God seek to build bridges between the Word and the world, between divine revelation and human experience, and to relate the one to the other with integrity ,relevance and infallible proofs. This is where Apostle Suleman stands out! His love of the Bible shines through his sermons, which are carefully prepared and then presented with an anointed intensity. Simplicity too, characterizes his messages.Through all the accolades he has presented a strong Christianity with a big God, a loving Savior, a hot hell, and a glorious heaven. Yet his message has remained incredibly simple: every person is sinful before God, a predicament that can turn to forgiveness only through faith in Jesus Christ. He has communicated it through simple phrases like 'The Bible says . . .' and 'You must be born again' that have riveted themselves into our hearts and minds. His delivery has been even more simple, characterized by crispness and clarity that even the youngest of listeners is able to grasp.
His ministry believes in the fire operation of the Spirit of God that refines, purifies and equally destroys.
In my privileged encounter with Apostle Suleman, he has been characterised with word depth, accurate prophetic ministration, creative miracles and salvation of souls. His ministry enables me to realise that oppressions and demonic manipulations are real. I learnt much about the reality and authority of God's power as well. It is all-powerful and all-pervading. Since having an encounter with the ministry, I have come to hold the true belief that all power belongs to God and that Satan has no scriptural right to manipulate the destinies of God's creatures. In fact, the miraculous is a normal experience in OFM.
By prophetic standard, Apostle Johnson Suleman is an apotheosis of prophetic reverence and veneration, the man redefines the word simplicity: simple in speech or sermon, even simpler in his deeds and his dressing. And still far simple in how he addresses serious issues.
The 'oracle of God' has not rested on his oars as he continues to give the church its global outreach. He distributes his message globally through Facebook and a 24-hour Christian television channel called Celebration TV,' as well as a 24-hour Christian radio station 'Voice of Fire Radio'. Apostle Suleman preaches the gospel alongside his wife Reverend Lizzy Johnson. Listeners receive salvation for their souls, accompanied with signs, miracles, prophetic ministration, and deliverance and healing. Today, his trademark 'I don't serve a dead God - He is the same yesterday, the same today, the same forever more! - is one of the popular ringtones for mobile phones.
Like every maker of history, Apostle Johnson Suleman has been subjected to a barrage of acerbic criticisms but his attitude has always been to remain focused on the assignment God has entrusted to him, while those who believe they were called to the ministry of criticism,should equally continue with their assignment, as at the end of the day the results would separate the wheat from the chaff. No doubt, facts are sacred and comments free. Because he is someone who shies away from publicity, very few people know that he spends billions of naira annually on philanthropic activities.
I would rather walk with a friend in the dark, than alone in the light. Apostle Johnson Suleman, you are a father and a friend who brings light to the dark, and you are the prophet of God for our time.Your faith stretches ours.Thank God for a preacher who takes Jesus at His Word. Thank God for a simple preacher. Thank God for Johnson Suleman.
Happy Birthday,my father,my mentor!
Disclaimer:

"The views/contents expressed in this article are the sole responsibility of the author(s) and do not necessarily reflect those of The Nigerian Voice. The Nigerian Voice will not be responsible or liable for any inaccurate or incorrect statements contained in this article."