Gov. Willie Obiano inaugurates the Agriculture Committee (21/03/14)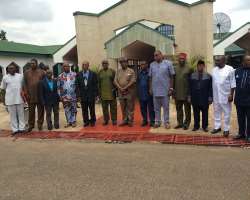 Gov. Willie Obiano today 21 March 2014, inaugurated a 14-person think tank agriculture committee that will draw up the operational blueprint for revolutionizing agriculture in Anambra State.
The Committee has a 33-point Terms of Reference, which includes, inter-alia, "mapping the State to determine which areas/zones that have the right soil and topography to produce cassava, maize, soya beans, vegetables and rice in commercial quantities."
In essence, the Committee is to determine how much food Anambra produces; how much the state consumes, and what is the critical gap in food production and how to fill that gap and ensure food security and export but more impottantly to confer a food production comparative advantage on the state.
Members of the Committee are, Prof. C.P.E. Omaliko (Chairman), Mr Ndubusi Menakaya (Member/Secretary), Prof. Nath Nwonwu, Mr Victor Ikeli, Hon. Emma Makeudo, Dr. Michael Chike Ikwele, Dr. Raymond Onweluzo, Dr. Chris Okeke, Mr. Isaac Mbanefo, Mr. Ebenezer Ikechukwu Ubaka, Dr. Earnest Igwe, Mr. Nnamdi Mekoh,
Engr. Emeka John Okafor and Mr Albert Odukwe.
The Committee has thirty days to complete its work.
Gov. Obiano and SSG Oseloka H. Obaze pose for group poto with Committee members.
Gov. Obiano inaugurating the agriculture committee.
Members of the committee
Committee Members interact with Gov. Obiano