Ekiti PDP Chairman Faults Ward Congresses, Says Primary Can't Be Free And Fair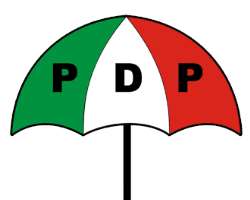 Ekiti State Chairman of the Peoples Democratic Party (PDP), Chief Makanjuola Ogundipe has faulted the party's Ward Congresses held on Wednesday; saying "Election materials never reached the five of the sixteen local governments, but unfortunately there were results returned for the councils."
His statement read; "I am writing this report as the State chairman in consultation with the State Executives, on the purported Ward Congresses to elect three Adhoc delegates held on Wednesday, March 19, 2014.
"I want to state categorically that I wholly supported the National Working Committee (NWC) decision to hold Primary to select or choose Ekiti State PDP Gubernatorial Candidate.
"In view of this and according to the tradition of the Party, the state Exco directed each ward to present two credible members per ward who would be swapped, with other ward as ward electoral officers.
"Also, each local council was directed to present two credible members per local government who would be swapped, with other local councils as Returning officers.
"The state assisting electoral officers committee that was to be chosen, however rejected by State secretary and Organisation secretary.
"All the wards and local governments had been given the ward congress officers as approved by the state Exco.
"The fake and illegal so-called LGs Returning officers collected the materials and went away to unkown destinations.
"The Local Government involved in the fraud are: Ekiti South West, Ekiti West, Emure, Ise/Orun, Ado and Gbonyin.
"Election material never reached the aforementioned local governments, but unfortunately there were results returned for the LGs.
"As at today, the result of the Congress is not available either at the Party secretariat or with the security agents.
"However, I was amazed to hear that results of 15 LGs were compiled by the Committee from Abuja.
"Where they got the results of 15 LGs, including 4 where materials did not get to, only the committee members can explain.
"As at today, I as the State Party Chairman do not have the list of delegates to used for the Primary.
"I am also not aware of the decision of the Appeal Panel, which listened to complaints from almost all the LGs yesterday.
"Therefore, it is difficult for anyone to guarantee a free and fair primary election in Ekiti State under this circumstances."