Dramatic Eyelashes Suitable For You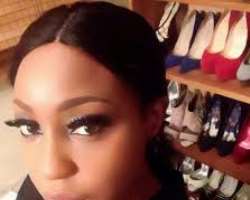 Eyelash extensions are false eyelashes made of human hair woven through fine gauze by a local wig manufacturer or with synthetic fibres.
A Popular false eyelash is the mink fur, which is commonly worn among stars.
These extensions come in different forms, types, thickness, colours and length.
The temporary false lashes are designed to be worn for a short period of time, and are applied to the eye with a lash adhesive. Semi-permanent eyelashes are worn in the eye with stronger adhesives, and lasts over a long period of time, if handled carefully.
In wearing eyelash extensions, it shouldn't be easily noticed when someone has falsies on. But in our fashion world today, everyone wants a bit of glamour on red carpet, so most ladies in a bid to to be very fashionable, tends to wear false eyelashes too full and much for their eyes, and this sometimes doesn't look great and fashionable on them, which makes the Best kind of false lashes for everyday use, isn't the too dramatic looking lashes (in a "set" or full).
Fluttery falsies are the perfect way to give your lashes a boost, but with all the different shapes and styles, it can be difficult to find the right pair.
In our addicting world of eyelash extensions, how well then do we know the best false eyelash for our eye shapes? The answer is your unique eye shape.
Everyone's eye shape is different, which means certain false eyelashes are more flattering on some than others. Here's how to find your best pair:

Round Eyes: To heighten your eye's circular shape, try long, dramatic false eyelashes that fan upwards, avoid lashes that are too thick because they can actually make your large eyes look smaller.

Almond Eyes: ladies with this shape of eyes are the luckiest. The reason is because most false lashes look beautiful on this eye shape. If you are wearing individual lashes, try placing them on just the outer corners of your eyes to play up their cat-like shape. Also, wearing a pair of feathery, voluminous lashes that fan outwards is suitable for this eye shape.

Hooded eyes: accentuate your eyes by opting for a pair of falsies that feature long and short strands, with the longest lashes right above your pupil. Women with hooded lids can also engage their lower lashes by placing individual lashes in the outer bottom corner of the eye for a fresh, wide-eyed look.
Mono lid: eyelash extensions are huge choices for girls with mono lids. Ladies with mono lids are those without crease. A false lash helps create one for you. Mono lids are very versatile, so feel free to experiment with different styles depending on the particular look you want to rock.