IMO STATE SPEAKER OF FRAUD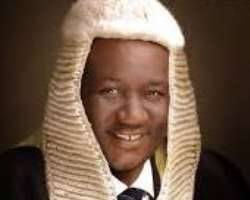 The Speaker of Imo State House of Assembly, Rt. Honourable Benjamin Uwajumogu is in trouble. His former aide, Citizen Ikenna Samuelson Iwuoha has opened up on the fraudulent activities being committed by the speaker, using several fronts including his Chief of Staff, Kodichi Anamekwe, his Acting Senior Special Assistant on Media, Emeka Ahaneku and his sister, Chidinma Uwajumogu.
According to the petition by Iwuoha to the Economics and Financial Crimes Commission, EFCC, when he discovered the monumental fraud going on in the Speaker's office, he officially requested both the Speaker and the Executive Governor of the state, Owelle Rochas Okorocha, to set up a probe panel to look into the activities of the fronts that the Speaker surrounded himself with. But because the speaker is fully involved in the fraudulent activities of his fronts, he reacted by issuing Iwuoha a query. He replied and stood by his allegations and requested again that the probe panel be set up.
Rather than set up the probe panel, Speaker Uwajumogu threatened to sack Iwuoha. But Iwuoha was wiser and faster than Speaker Uwajumogu when he, on December 17, 2013, resigned his appointment as Senior Special Assistant to the speaker on Special Duties.
According to Iwuoha, the Speaker's Chief of Staff, Anamekwe, awards roads contracts on behalf of the Speaker. Some of such road contracts include the constructions of a 3.0km Umudim-Umubochi road and the 5.0km Ubaraogwu- Amiri road in Oru East Local Government area awarded to Eamdar Construcion Nig. Ltd and the Construction of 2.15km Mgbara Umuoji road in Ohaji Egbeme Local Government Area awarded to Emtony Global Connections Ltd.
Describing the contractors as 'wait and take' contractors, Iwuoha revealed that the condition to win any contract is that all the asphalt materials are procured from the speaker's asphalt plant worth over N600 million and located along Onitsha road, Owerri.
'It should be noted that through various manipulations in award of road contracts, state funds running into billions of naira were diverted and used by the Rt. Honourable Speaker to acquire eye popping properties scattered across the country and abroad', Iwuoha stated.
The properties the speaker acquired with alleged stolen funds include a N500 million naira Asphalt plant along Onitsha road Owerri, acquired in the first quarter of 2012, several mansions along Chief Ben Uwajumogu Street Federal Housing Estate Umuguma Owerri - West LGA, acquired in 2013, JASMINE Hotels and suites behind Imo Concorde Hotel valued at over N70 million and opened in November 2012, over 200 plots of land located in Owerri West LGA and acquired in 2013, renovated, furnished and converted his father's village one storey building at Ihitte/Uboma LGA into a palace at a value of over N400 million, built two other mansions in Ihitte/Uboma, renovating his father's Hotel (Eastern Comfort) in Umuahia to the tune of over N100 million, acquired mansions in Aba and Umuahia, acquired a crush rock industry in Ebonyi State to the tune of over N760 million naira in 2013, converted the Imo State Liaison Office Abuja into his personal property. The Imo State government reportedly 'leased' out the five floor state liaison office for 20 years at the sum of N70,000,000 million to Imo Speaker, who in turn ejected all Staffs of the office forcefully in August 2013. So far, Imo Speaker has spent over N750 million in converting the edifice into a Hotel. The Imo Speaker is presently developing a hotel in Lagos valued at over N500 million naira.
According to Iwuoha, rather than recruit 30 aides for the speaker's office, 120 were recruited and none of the differences of 90 aides has ever reported to work. Yet these 90 ghost workers are regularly paid. The speaker knows who collects the salaries of the 90 ghost workers.
One of the workers in the Speaker's office is his Chief of Staff's mother, Madam Monica Anamekwe who is said to be over 85 years. She is Special Adviser to the Speaker. Appointment letters of workers in the Speaker's office are backdated several months and the accrued salaries allegedly find their way into the speaker's pocket.
Also, financial assistance is given to any one who agrees to drop, 'something' for the office. For instance, one Emmanuel Adoba, former Special Adviser to the Speaker on administration was given a financial assistance of N1.3 million and he dropped N300,000.00 for the speaker's office.
Other fraudulent activities are noticed in the areas of general supply, advertorial rates, and stipends for newspapers correspondents. The Imo speaker allegedly uses Imo State funds to fund private businesses and Non Governmental Organisations, NGOs, using his sister Chidinma Uwajumogu as a front. He also allegedly uses the same Chidinma's name to acquire properties all over the country and abroad.
Chidinma Uwajumogu was the national co-ordinator of the First Lady, Dame Patience Jonathan's Women For Change Initiative. But she was sacked unceremoniously when she allegedly boasted that she must sleep with the president.
Sources alleged that she made several romantic moves towards the president who sternly bluffed her. She allegedly hired the services of a native doctor who assured her that she must succeed. She then allegedly boasted to the hearing of one of her close friends who also has access to the president's wife. Unknown to her, her friend was taping her boast. The recorded boast was allegedly played to the First Lady who allegedly doubted the voice. Accordingto our sources, Chidinma's friend allegedly put a call across to her and asked her whether she was serious about her plans to take the president to bed as she told her earlier. She repeated it. The First Lady simply allegedly directed that she be thrown out of the Villa and be barred from entering it for any reason. That ended her sojourn at Aso Rock.
Chidinma Uwajumogu does not hide her exploits with men. She boats of having gone to bed with people like General Ibrahim Babangida, Chief Bode George, Owelle Rochas Okorocha, General T.Y.Danjuma, former governor Bukola Saraki, Senator David Mark and former Governor Donald Duke of Cross River state.
According to sources, Chidinma was instrumental to the emergence of Benjamin Uwajumogu as speaker, using her alleged romance with Okorocha. Chidinma Uwajumogu was married to one of Ambassador Kema Chikwe's brothers in Owerri North Local government area of the state. She was kicked out of the marriage because of her alleged open romance with men.
While still in the marriage, she was bearing Chidinma Ejiogu and she contested for the Owerri Federal House of Representatives seat under the Peoples Democratic Party, PDP, but lost to her brother inlaw in 2003. Because of her life style, she was always at war with Ambassador Kema Chikwe who was always advising her to live the life of a married woman.
Today, Chidinma Uwajumogu is a member of the All Progressives Congress, APC. Recently, she celebrated her 50th Birthday with Imo state money allegedly stolen by her brother, the speaker. She even allegedly threatened to open the speaker's can of worms if he did not bankroll her 50th birthday celebration. Because the speaker is stupendously rich and the fear that Chidinma may make real her threat to expose him, he bankrolled the birthday celebration which witnessed the presence of APC stalwarts.
In an interview with the magazine, Iwuoha stated that the Speaker could not set up a probe panel to investigate his allegations of fraudulent activities going on in his office 'because he saw that setting up a panel was also a direct or indirect way of exposing him, he decided to play politics with the whole thing. Then rather than set up a panel, he gave me a query and I responded insisting that he must set up a panel. The speaker, with due respect to his office, is also fraudulent and I am saying it authoritatively because I can prove it.'
Iwuoha wonders why a man who borrowed N10.6 million from Chief Athan Achonu, N11.5 million from Chief George Eguh and N15 million from Chief Tony Chukwu and mortgaged his father's properties at Aba and Umuahia in Abia state during the 2011 electioneering campaign can become a billionaire within two and a half years if he is not corrupt.
Iwuoha will not be surprised if Uwajumogu ends up in the EFCC cell. He revealed that the speaker's father, Sir B.U. Uwajumogu was chairman of Golden Guinea Breweries Ltd, Umuahia, when the late Chief Samuel Onunaka Mbakwe, was the governor of old Imo State. When the military junta led by Generals Muhammadu Buhari and Tunde Idiagbon overthrew the Civilian government of Alhaji Shehu Shagari, the senior Uwajumogu was one of those detained over corruption charges. He died a few months after he was released.
So if speaker Uwajumogu is picked up and detained by the EFCC over allegations of corruption, it is not going to be strange to the Uwajumogu family of Ihitte Uboma Local Government area of Imo State.
Iwuoha who is former Special Adviser to the Speaker on Media and later on Special Duties is sure that the Speaker is going to be a guest of the EFCC. 'I am involving the EFCC. Let us do investigations. If at the end of the day it is discovered that I am just raising false alarm, the law will take its normal cause on me,' lwuoha told the magazine, adding that he is ready to prove to the antigraft body and the Imo people that Rt. Honourable Benjamin Uwajumogu is corrupt.
Already, a non profit watchdog group Youths Against Human Rights Violations and Corrupt Practices [YAHVCP] has called on the Speaker to resign from the House for these contract scam and employment racketeering . The call was contained in a statement issued in Abuja and jointly signed by the National Coordinator of the group, Mr Kenneth Uwadi, and the National Media Affairs Director, Miss Amaka Didanda.
Speaking with journalists in Abuja, the National Coordinator of YAHVCP, Mr Kenneth Uwadi called on the Imo State House of Assembly to immediately open investigations into Iwuoha's revelations, inviting him to substantiate the allegations attributed to him. He made it clear that the allegations are against the integrity and image of members of the House and the group is against looting of Imo tax payers money in a state where 80% of her citizens live on less than 600 naira per day, in a state that has almost 10,000 children on the streets-children without parental care, without shelter.
'Imo House of Assembly should make public the Speakers net worth in May 2011 given his massive acquisition of properties. We want to know why Uwajumogu abandoned his responsibilities as Speaker and went outside his confinement of duties to award road contracts to himself via his friends and to inexperienced contractors in Imo State. We want to know why he used the Imo Assembly money in funding the private businesses and NGO's (Development Initiative for African Youths and Development Initiative for African Women) owned by his Sister Dr Mrs Chidinma Uwajumogu and how and where he got the money to build a 760 Million naira crush rock industry in Ebonyi State, build an Asphalt factory in Owerri,buy over 200 plots of land in Owerri, buy mansions at Aba, Umuahia and Ihitte -Uboma, buy 15 mansions in Owerri, buy 500 million naira private hotel in Abuja and 750 million naira private hotel in Lagos,'' Uwadi said.
Uwadi condemned in absolute terms the silence of the Imo State House of Assembly over the heavy corruption allegations levelled against the Speaker by Iwuoha who worked under Uwajumogu for three years and who disclosed how fraudulent contracts for road projects worth billions of naira were awarded by his former boss without due process to the extent that some of his aides were equally awarded road contracts. Also Uwajumogu's friends who were residing abroad were asked to return home, which they did and road contracts were given to them as fronts even though they never had any experience in road contracts assignment and execution. Asphalt materials for the road contracts were also procured from an asphalt plant in Owerri owned by the Speaker.
Surprisingly, for all the attention that Iwuoha's revelation has elicited, not one member of the Imo State House of Assembly, felt outraged enough to call for a probe. None of the State's law makers seems curious to find out who stole what as mentioned by Iwuoha. None cared to find out how monies were diverted, and where some of them may be found. There are no disenchanted murmurs from any of them. They all seem to have forgotten the sayings that the hottest place in hell will be reserved for those who sit on the fence in the face of great moral crisis and that the world is a dangerous place, not only because of those who do evil, but because of those who look on and do nothing.
'The silence of the Members of the Imo House of Assembly over the fraud in the Speakers office is not acceptable. We must reject corruption. We must not accept it as normal. Corruption is like cancer. Cancer makes lives exceedingly miserable. Corrupt politicians are punishing the rest of us. They don't show respect to the common good of the citizens, thereby retarding development. Corruption in public office in all its manifestations is a dehumanizing evil force that must be fought with all the energy that we can muster. We must not allow Imo State to be painted as a State that tolerates or even encourages corruption,' Kenneth Uwadi stated.
Uwadi called on the leadership of the Imo State House of Assembly to constitute a probe panel that will investigate the allegations levelled against the office of the Speaker by Mr Iwuoha and stated that if the leadership of the House fails to constitute a probe panel to investigate the Speaker and invite Iwuoha to tender his evidences then the whole world can agree that the members of the Imo House of Assembly are indeed the 27 thieves that he has been talking about.
The Speaker has tons of questions to answer. He should tell Imolites how he got the money he used in acquiring an asphalt plant six months after he became speaker, how he got the money to acquire eye popping mansions at Aba, Umuahia and Ihitte -Uboma, how he got the money to buy 15 mansions in Owerri, why he converted the Imo State Abuja Liaison Office to his own private use of which he spent 500 million naira in turning it into a private hotel, how he got the money to build a 750 million naira private hotel in Lagos, why he is using the Imo Assembly money in funding the private businesses owned by his Sister Dr Mrs Chidinma Uwajumogu and why he abandoned his responsibilities as Speaker and went outside his confinement of duties to award road contracts to himself via his friends and to inexperienced contractors in Imo State.
The instant case is like stealing from public coffers which is a crime against the progress of Ndi-Imo. Sadly the people of Imo state seem unable to oppose this legalized official looting wherein the speaker and his clique loot the state dry. They are unable to fight those that are insensitive to their plight.
Uwajumogu is accused of looting billions of Imo tax payers money in a state where 80% of her citizens live on less than 600 naira per day, in a state that has almost 10,000 children on the streets-children without parental care, without shelter.
Uwadi called on organizations and individuals in Imo State including Labour Unions, Trade Unions, Human Rights Groups, Staff Unions in Universities, Students Unions, Youth Groups, Activists and Socialists, locally and internationally to join him in demanding a probe of the allegations against the Speaker and if he is found guilty, he should be removed and prosecuted with the aim to reclaim all monies looted in order to massively invest it in education or health care or even roads that will eventually create jobs to wipe out poverty in Imo state.
Reacting to the allegations, the speaker's Assistant on Media, Emeka Ahaneku stated that it is common knowledge that Houses of Assemblies in Nigeria, Imo House inclusive do not have a budget and as such can not afford to fund contracts. 'So how can an institution that cannot fund contracts give out road contracts in a State where the works ministry is active?,' he asked.
He is baffled when a former media aide who was supposed to be educated on legislative processes parade an advisory letter addressed to a ministry for the sole purpose of informing the ministry of the outcome of oversight performed on a particular project as a letter of award of contract by the Speaker.
'For our education, oversight is that function of the House that has to do with the scrutiny of Executive branch programmes like the role the House Committee on rural roads played that aided the asphalting of many rural roads in Imo State. To be able to play this role of Oversight effectively and to make sure that the funds appropriated for projects where judiciously used for execution of such projects, they toured all project sites for first hand information to ascertain the name of contractor handling each project, the length and other facts that are needed to progress on the job. The house in writing sends the information gathered by the committee to the relevant ministries for advisory purposes. And it is one of such letters that Uwadi and Samuelson is marching on to say the Speaker gave contracts,' Ahaneku said.
On the allegation that the Speaker employed 120 workers of which 90 of them were ghost workers, Ahaneku asked whether Iwuoha was indirectly calling himself a ghost worker. Accordingto him, the Imo speaker has created employment for over 400 youths in various enterprises he nurtured even before he became a legislator and indeed has over 100 aides most of them he pays through his personal resources in other to give their young men a chance in life and added that it is only men who are poor in spirit and resources will seek to make money through ghost workers, engaging Imo youths is not corruption.
On Uwajumogu abandoning his responsibilities as a Speaker, Ahaneku said that the truth is that even the worst critic of the Imo State House of Assembly cannot sustain any argument about the fact that the present House of Assembly have added value; visible and demonstrable value to the system they inherited two and half years ago by supporting His Excellency's rescue mission agenda, which required sacrifice, accountability, hard work, dedication and sincerity to execute and fortunately in Imo State, the electorate have had the opportunity to study the legislative arm of government since the return to civil rule hence the difference is clear.
'A performing legislator is measured on speech, conduct and being grounded on the operations of his environment. The primary functions of a legislator are lawmaking which the present House led by Speaker Uwajumogu has excelled, having passed over 38 life changing laws and over 131 motions in two and half years. Representation which makes them the mouthpiece of their constituents; judging from the seriousness the present lawmakers attach to petitions or complaints from their constituencies and their ability to attract 15 kilometer of rural roads, new school for every electoral ward, one hospital and various other projects shows they have also done well in this regard, Oversight to check the executive arm and ensure that appropriation made for the development of the State are deployed for effective service delivery, on this area the House has also done very well. Performance of a Speaker in the legislative arm does not lie in how far it goes fighting other arms of government, the courage to rain abuses on the Governor or raising empty alarm to make money but of sacrifice and maturity to dialogue with other arms to achieve the desired result for Imo people,' Ahaneku said.
On the funding of the private businesses and NGO's (Development Initiative for African Youths and Development Initiative for African Women) owned by his Sister, Dr. Mrs Chidinma Uwajumogu, the speaker's aide said that to mention the Speaker's Sister, Dr Chidinma Uwajumogu is the height of desperation to insult and tarnish peoples image. He stated that Chidinma is the pioneer national coordinator of Her Excellency, the wife of the President Federal Republic of Nigeria, Dame Patience Jonathan's pet project ''THE WOMEN FOR CHANGE INITIATIVE' and that she is not only a very wealthy woman but has committed her time and resources to helping the Nigerian youths and women and that she has not been able to visit the Imo State House of Assembly since her brother became the Speaker, because she is busy attending national and international programmes and does not need the Speaker to fund her organizations.
'In responding to these allegations, let me note and make it clear that these are very wild and frivolous allegations. I have never seen Samuelson Iwuoha and Kenneth Uwadi propaganda machinery going into this level of overdrive just to drive it home that Uwajumogu is an administrative fraud yet they failed to establish the source of the money used in acquiring these fictitious properties. Maybe because Samuelson Iwuoha having worked with the House of Assembly knows. That that the House of Assembly does not operate the way it's been presented to the public by him, because all facts and statements of account are there for everybody to see in the accounts department so as professional blackmailers they made their allegations wild, so wild that it will be difficult for people to ascertain the truth. They said the Speaker acquired all this properties in two years and failed to publish the addresses and locations of the various multimillion naira Hotels and mansions, it will be expected that a 750 million naira hotel anywhere in Nigeria even in pricey Victoria island and Abuja will not be hidden, and should have a prominent address, at least the photographs would have assisted them to prove this obnoxious allegation, same with the crush rock factory and the 200 plots of land in Owerri located at only in an area of their imagination,' Ahaneku said.
He urged Imolites and Nigerians at large to openly condemn these act of impunity and blackmail designed to tarnish, misrepresent and get back at the speaker for allowing the assembly suspend him (Samuelson Iwuoha) indefinitely and enjoined well meaning Nigerians to ask Iwuoha why he waited until he was suspended indefinitely to come out with his allegations?
'If Kenneth Uwadi claims he coordinates human rights abuses and corruption, how many employees does he have in his office on payroll? Where is his office and when was this NGO registered? What have his NGO accomplished since inception? How many people or groups, official etc who, because of his outburst got convicted in Nigeria?' Ahaneku asked in what looks like an attempt to divert attention from the serious allegations of fraud leveled against his principal.
And Iwuoha maintained that he was not suspended indefinitely. He went on suspension on July 11, 2013 and returned one month after when the speaker assigned him to the Special Duties Department. On December 17, 2013, he resigned his appointment.
But if Iwuoha was suspended indefinitely, has that got anything to do with the allegations of fraud he levelled against the speaker and which he said he is ready to prove?
Nigerians are waiting and watching to see the outcome of the expected investigation. That is if the EFCC steps in. Because any probe panel by the House of Assembly at this time will be compromised. And Imo people will not accept it.
In our next edition, we will serve you with the second part of this story with pictures, addresses and particulars of the properties acquired by the Honourable Speaker of the Imo state House of Assembly.
Disclaimer:

"The views/contents expressed in this article are the sole responsibility of the author(s) and do not necessarily reflect those of The Nigerian Voice. The Nigerian Voice will not be responsible or liable for any inaccurate or incorrect statements contained in this article."