Town Hall Meeting: IKOT ABASI On Rampage, Vandalizes Akpabio's Convoy Over Udom's Rants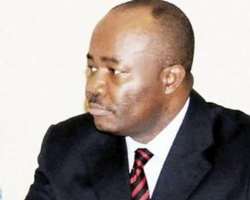 Another round of violence trailed today's town hall meeting by Governor Godswill Akpabio. Vehicles and other properties were massively destroyed in Ikot Abasi as the constituency tour enters its third week. One person is believed to have been killed while several others sustained serious injuries.
Today's violence started after Emmanuel Udom ended his vote of thanks by saying that as one who is in government, he has every government document at his disposal and could manipulate this in his favor in 2015. He insinuated that with this singular edge, he was the candidate to beat in the 2015 election.
The statement angered the already irked youths who immediately went on rampage against the governor and his envoy. The situation was worsened when members of the Crowd Control Unit (CCU) attempted to stop the angry youths. They were overcome by the hordes of Ikot Abasi Youths who chased and beat them mercilessly. The governor's convoy was also attacked by the angry youths.
The youths were angry that Udom Emmanuel was not only undermining their collective role which they will play in the 2015 governorship election, but had also gone too far to insult their sensibilities.
As at this evening, smokes from burnt tires and vehicles were everywhere around the town hall meeting venue and it's environs.
It would be recalled that only on the first day of the briefing in Eket, elders of Eket Senatorial district had warned Akpabio not to go ahead with his plans of singling out a candidate from the senatorial district for the people of Eket as they are capable of selecting their own candidate in an open and level playing field. Former Miniater, Essien Nduese had particularly called on all aspirants from Eket to contest in the election and not think that Akpabio was going to select anyone at the detriment of other qualified candidates from the area.
This evening's violence is the worst in the series of opposition which Akpabio has had since the beginning of the briefing. During the briefing of Ikono/Ini, the head of the CCU, Emmanuel Ukoette was ruthlessly beaten by some angry youths who said Emman had come to tear their No-Zoning placards which they carried at the venue of the town all.