Open Letter To Pres. Ellen Johnson Sirleaf…. Re: The NOCAL Roundtable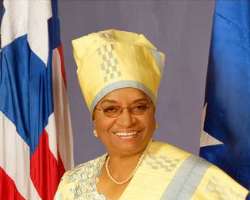 Her Excellency, Ellen Johnson Sirleaf
Her Excellency President Ellen Johnson Sirleaf
Office of the President
Ministry of State and Presidential Affairs
Republic of Liberia
18 March 2014
Dear President Sirleaf,
Greetings Your Excellency,
In 2000, the National Legislature established the National Oil Company of Liberia (NOCAL) to hold "all of the rights, titles and interests of the Republic of Liberia in the deposits and reserves of liquid and gaseous hydrocarbons within the territorial limits of the Republic of Liberia, whether potential, proven, or actual, with the aim of facilitating the development of the oil and gas industry in the Republic of Liberia."
Therefore, it raises serious questions to learn that NOCAL entrusted your grandnephew Mr. Estrada Bernard III, a South Anchorage High School student in the State of Alaska, USA, to make a presentation on the development of the National Oil and Gas Industry of Liberia, a country of three and a half million citizens. It is my understanding that Mr. Bernard did an internship with Malcolm B. Roberts & Associates, a firm in Alaska, through his participation in an extracurricular program, the Anchorage School District Gifted Mentorships. I am curious how the 90-day after-school program (http://www.asdk12.org/giftedprogram/highschool/giftedmentorships/) in Alaska prepared 17 years old Mr. Estrada Bernard III with the requisite expertise to speak at NOCAL's behest before the National Legislature of Liberia and key stakeholders at the National Oil Roundtable. My concern is that the inclusion of Mr. Bernard without further clarity on his expertise undermines your stated efforts to build a transparent process to developing the oil and gas industry.
As your fellow Nobel Laureate, I supported your first and second term campaign platform to build an open, accountable government committed to rooting out corruption. Therefore, I join Liberians in keeping a keen eye on the NOCAL process. A March 10 FrontPage Africa Online article listed participants of a roundtable consultation. Of the seven speakers listed in the article, one biography included direct experience working in the oil and gas industry, and another was an adult Liberian; three participants, one of whom is your grandnephew—the aforementioned current high school student—were affiliated with the Malcolm B. Roberts & Associates firm based in Alaska.
I searched for information about the Malcolm B. Roberts & Associates firm and its employees online, but was unable to locate a website underlining a lack of a web presence or footprints to authenticate their credibility. To curb criticisms that these roundtable consultations are not taking a serious approach to the development of the oil and gas industry, I strongly urge your administration to widely distribute the names and biographies of all invited participants.
According to a March 17 FrontPage Africa Online article, National Legislature Speaker Alex Tyler boycotted a March 14 presentation by Mr. Bernard because he had no direct experience in developing an oil and gas industry. Madam Jacqueline Khoury, a key Member of the NOCAL Board of Directors, justified the selection of your grandnephew under the "citizen participation clause" in the draft Petroleum (Exploratory and Production) law.
FrontPage Africa Online recorded that Madam Khoury said she first learned of Mr. Bernard "on the internet" and that Mr. Bernard and his colleagues were "given to us by the state of Alaska to help us with our process." I encourage your administration to make public the agreement NOCAL and the State of Alaska signed to bring Mr. Bernard and the other experts to speak before the National Legislature to quell questions that funds were misused. I also encourage that any materials Madam Khoury viewed on the Internet that demonstrates Mr. Bernard's insights on the oil and gas industry be made publicly available along with any papers Mr. Bernard may have written. My search online was only able to find a video about your grand nephew speaking enthusiastically about a pre-college summer preparation course.
Greater transparency on who is selected to speak at NOCAL roundtables and the expertise they bring will help buttress Liberians' faith NOCAL is fulfilling its mandate.
Liberians are rightfully optimistic about the great benefits an accountable, effective management of Liberia's natural resources, especially the energy sector can bring to their lives—higher paying jobs, greater infrastructure development, and wider access to electricity and clean water among other benefits.
The National Petroleum Policy report echoes this optimism. It states that the policy goal is to "manage Liberia's petroleum resources in an environmentally responsible manner to optimize returns for Liberia and ensure equitable benefits to the people of Liberia now and in the future." Both the Government of Liberia and Liberians are on one accord that the oil and gas sector must be developed responsibly and for the benefit of all Liberians.
It is my hope that you will invest in greater transparency to alleviate concerns of all Liberians that NOCAL and every government entity is acting in their best interests.
Sincerely,
Leymah R. Gbowee
2011 Nobel Peace Laureate
Founder and President, Gbowee Peace Foundation Africa