IMO DEPUTY GOV CALLS ON CHRISTIANS TO PRAY FOR THE UNITY OF NIGERIA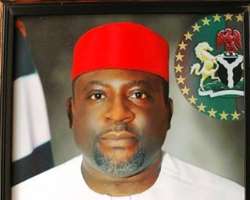 The Imo State Deputy Governor, Prince Eze Madumere, has called on Christians to use the period of lent to pray for the unity of the country.
In a press release signed by the Chief Press Secretary to The Deputy Governor, Uche Onwuchekwa, Prince Madumere said the Lenten period is when Christians reflect on the sufferings of Jesus Christ and the ultimate sacrifice he paid on the cross of Calvary.
According to the release, he called on the people of Imo State and Nigeria in general to imbibe the spirit of tolerance in their relationship with one another as he says that peaceful coexistence creates an atmosphere of growth and development.
Prince Madumere further enjoined Christians to pursue peace with all their hearts as exemplified by Jesus Christ. He said that as followers of Christ Imo people in particular and Nigerians in general should show love to one another.
In the same vain,Prince Madumere called on the people of Imo State to continue to pray for God's continued wisdom and vision for the State and for the Owelle Rochas Okorocha led administration to bring about more developmental strides.
For those whose lives were cut short by the unfortunate activities of the insurgents in the North, Prince Eze Madumere prayed for God's divine intervention for a lasting peace in the land.