UNN executes over 400 projects with TETFUND, capital and internally generated revenue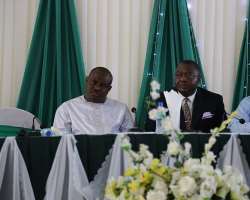 Education Minister Nyesom Wike with UNN VC Prof Bartho Okolo and Tetfund Exec Sec Ma Aliyu Nai'ya
The University of Nigeria has executed over 400 projects over the four-year period 2010-2013 deploying funds from the Tertiary Education Trust Fund (TETfund), FG capital allocations and Internally Generated Revenue.
UNN Vice Chancellor Prof Bartho Okolo disclosed the huge project profile at the university on Tuesday March 11 while rendering account at the South East Stakeholders' Forum of the TETFUND/Capital Interventions in Higher Institutions held at the Main Hall of the Enugu Campus of the institution.
Education Minister Nyesom Wike attended the forum with the Permanent Secretary Ministry of Education Dr MacJohn Nwaobiala, Chairman of TETFUND Dr Musa Babayo and Mallam Aliyu Na'Iya, Acting Executive Secretary of the Tertiary Education Trust Fund.
According to Okolo, UNN accessed N2.6bn from the Education Trust Fund and a further N1.7 bn in capital allocations over the period. The receipts are from total TETFund allocation of N7.8bn and capital allocation of N3.5bn over the four-year period. TETfund over time bridges shortfalls between allocation and releases as institutions execute projects and show proof.
UNN executed 179 projects with TETfund monies over the period covering physical infrastructure, teaching and learning environment and academic work. There were 20 construction projects, six procurements, 39 scholarships for higher studies while the Fund paid for 115 conferences and workshops attended by staff of the institution.
Of the 17 projects executed with capital allocations, 15 were construction projects tackling physical infrastructure. Two were procurements for laboratory equipment.
UNN raked up Internally Generated Revenue (IGR) of N4.9bn over the period. The Vice Chancellor's report showed that UNN executed 227 projects using Internally Generated Revenue. The breakdown shows 133 constructions, 30 procurements, 35 scholarships and sponsorship of 29 conferences.
Major projects executed during the period, Prof Okolo disclosed, include the department of Economics building, remodelled and expanded from single floor to three floors with N216m from TETfund the Workshop for Vocational Teacher Education, with TETfund's N110m leading the project and a new Faculty of Pharmacy Building under construction with N469m from TETfund.
Others are the construction of a multi-storey CEC Seminar Building, construction of a Law Faculty Building for N215m, and the N26m Studio/Laboratory for Architecture also at the Enugu campus.
Okolo said TETfund also provided N458m for the procurement and installation of 13, 600 seats for more than 24 lecture theatres, and 113 classrooms at both the Nsukka and Enugu campuses. A further N74.8m from the TETfund enabled UNN install 228 projectors and smart boards in lecture theatres, laboratories and classrooms.
Procurement and installation of equipment for the Cardio-Thoracic Unit, College of Medicine, Ituku Ozalla was courtesy of N460m from the TETfund, while it has made available N1.5b for the construction of a main administrative building, auditorium and cultural centre for the new Anyim Pius Anyim Institute of African Studies.
Capital Appropriation funds enabled UNN execute major projects including construction of Pathology Laboratory at the College of Medicine (N339m), ongoing construction of administrative block at Enugu campus (N790m), remodelling of Personnel and Records Office buildings at Nsukka and construction of a multi-activity students centre at Nsukka (N259m).
Okolo showed pictures of the various projects including new and refurbished roads and landscaping projects that have enhanced the ambience of the institution and its suitability for academic work and university community.
Key IGR projects include construction of a new School of Post Graduate Studies (N1.02bn), rehabilitation and upgrade of 19 hostels involving structural restoration, re-roofing, replacement of windows and doors, refitting of WCs, painting etc) (N478m) and a University printing press equipped with N100m.
IGR projects benefitted from strong networking and leveraging of the UNN brand to collaborate with private sector players, institutions and individuals who are contributing to the school. Chairman of Shell Companies in Nigeria and Managing Director of Shell Petroleum Development Company JV Mr. Mutiu Sunmonu would commission on Wednesday March 11 the Centre for Environmental Management and Control commenced with an initial $1m donation from Shell. Google Inc, MTN Communications and MainOne Cable as well as the Enugu State Government collaborated in providing Internet over a wide area network, while Fidelity Bank helped in procuring the 400 PC units Computer Lab at the Nnamdi Azikiwe Library. Other projects include the N6bn Central Bank -sponsored Centre for Financial Studies, the Ifeanyi Ubah Data Centre and the Ibeto Diagnostic Centre valued at N600m each.
Institutions present at the TETfund Stakeholders' Summit were Federal Polytechnic, Nekede, Federal College of Education (technical), Umunze and Federal University of Technology, Owerri. Others include Akanu Ibiam Federal Polytechnic, Unwana, Federal College of Education, Eha Amufu, Michael Okpara University of Agriculture, Umudike. Also present were Federal Polytechnic, Oko, Nnamdi Azikiwe University, Awka, Alvan Ikoku College of Education, Owerri and Federal University, Ndufu-Alike.
TETfund Chairman Alhaji Babayo said the fund had N31bn allocation for schools in the South East zones but regretted that institutions had only been able to access N10b of this sum. He called for speedy execution of projects and retirements by institution managers to enable them access the outstanding sums.
TETfund Executive Secretary Mallam Na'Iya said TETfund interventions based on the 2% Education Tax on companies in Nigeria seek to 'provide su